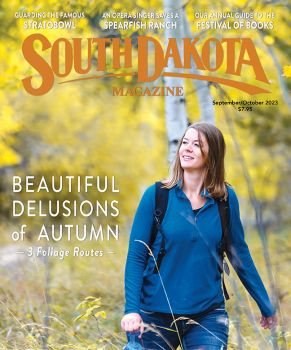 Subscriptions to South Dakota Magazine make great gifts!
Subscribe today — 1 year (6 issues) is just $29!

A Roots Soup
By Bernie Hunhoff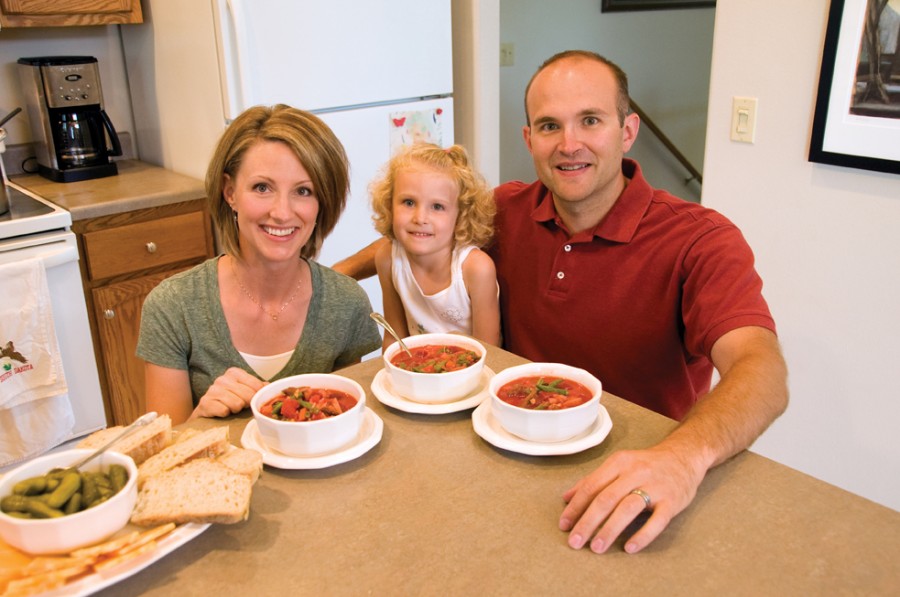 The Schumacher family (from left -- Signe, Evie and J.P.) enjoy a summer tradition of making a batch of borscht soup.
This story is about the adhesive qualities of a beet soup called borscht. The soup won't hold plastics or wood together, but it has amazing bonding qualities for people.
Borscht came to South Dakota in the 1880s when Germans-from-Russia emigrated to escape religious and political persecution. Among them were the Wenzels, Lapkas and Schumachers.
The immigrants and their offspring became immersed in South Dakota culture, but they didn't forget their roots or soups. Walter and Vivian Wenzel were second-generation South Dakotans who farmed and also operated a movie theater and bowling alley in Eureka. "Everybody around Eureka had their favorite recipe for borscht and mother made it at home when I was growing up," says the Wenzels' daughter, Marilyn Nef, who lives in Milbank.
Marilyn left Eureka for college in Brookings in the early 1960s and remembers feeling surprised when her parents then decided to expand their movie theater with a restaurant named — of all things — The Borscht Kettle.
"Mother had been a stay-at-home mom who gardened and was a housewife," Marilyn recalls. "She also helped at the theater, selling tickets and the like. But after I went to college she went down and learned from scratch how to run a restaurant and order supplies and do all the things you have to do to be successful. I was really proud of her."
Naturally, the beet soup became a staple at The Borscht Kettle, along with other German specialties such as strudels, barushka, knoepfla and cheese buttons (aka kase knoepfla). "It was really a normal Midwestern cafe," she says. "It was a short order place with hamburgers, eggs and pancakes along with some of mom's German recipes."
The Wenzels ran the place until the mid 1990s. Today, it's operated as the Lyric Lanes and Restaurant by Vicki Lapka, the great-granddaughter of German-Russian immigrants. She occasionally serves borscht and regularly features other ethnic dishes — including strudels and dumplings for Tuesday lunches and either strudels or cheese buttons on Saturday nights.
Some of the immigrants' descendants still farm or run businesses in McPherson County. Many more have left the rural countryside, but hold tight to their forebears' foods. Luther Schumacher grew up on the family farm between Leola and Eureka, and then went into education. He retired as a school principal in Aberdeen. "Borscht was a staple of summer because we always had fresh beets," he says. "We picked the best leaves with the brightest colors. Talk about healthy food, that was it." He makes borscht every summer, and is showing his daughters how to cook it and other German foods.
Luther's sister, Nina Kunz, also continues the borscht tradition. "It is a summertime soup because you use fresh vegetables from the garden," she says. "You can use canned beets and whatever, but when it comes out of the garden it has a taste that can't come from the can. The fresh dill and the beets especially must come right from the garden. The beets give you that beautiful ruby red color. It's a beautiful soup."
She and her husband, Kenny, live on the original Schumacher farm. "One of the greatest things about living here is knowing as I walk around the yard that my great-grandpa and grandma walked here and my uncle and my aunt walked here, and now our two sons are here, and their sons are the sixth generation."
The Kunzes' daughter visited from Fargo last summer. Before leaving North Dakota, she made a request to her mom. "Would you have some borscht soup ready when I get home?"
Nina knows variations of borscht. "There's a green borscht, a chicken stock soup that you add a lot of the new growth dill, fresh carrots and fresh garden onions and then the beet leaves. You make it early in the season when the leaves are tender and add some garden potatoes and a little bit of rice."
"The more we get settled in Sioux Falls, the more we want to hold onto our family food traditions. I grew up on lefse and krumkake but borscht is important to the German family that I married into."
Kenny and Nina operate a bed & breakfast called the Northern Kross Lodge on their farm. The lodge is a renovated Congregational church building from nearby Greenway. Hunters and other guests are thrilled when Nina serves German recipes like sweet & sour cabbage (seezkraut) with pork sausage from Kauk's Meat Market in Eureka and kuchen for dessert.
Luther and Nina's nephew, J.P. Schumacher, moved to Sioux Falls, where he met Signe Hanson, a blonde with Scandinavian roots and no knowledge of German beet soup.
"Once, when I was dating J.P.," Signe says, "I looked in his refrigerator and all I saw was beer, pickles and a quart of something that was blood-red." His grandmother had given him a jar of borscht.
The blood-like jar didn't scare Signe away. After they were wed, she wanted to learn to make some of the traditional recipes J.P. grew up eating. He insisted that borscht be included on the list. So, on a weekend visit back to McPherson County, J.P.'s step-mother Cindy taught Signe to make the summer soup.
The reddish color comes from beets, which also give the soup a tart summer sweetness and freshness. She found that she could get beef bones from Western Locker in Sioux Falls. "Supermarkets have soup bones, but there's not as much good, tender meat on theirs."
She says part of the tradition and taste is to grow as much of the vegetables as possible in your own garden. "We usually make a batch every summer and we'll freeze three or four quarts, and come January we wonder why we didn't make another batch."
Their daughter, Evie, started eating borscht at the age of one. "We have pictures of her first spoonful," Signe says. "She loved it, maybe because of the color. She ate it by the fistfuls." When Evie turned four, she told her mother that she wanted to watch the soup-making so she could learn to do it herself.
"J.P. and I are not connected to the farm on a daily basis," Signe says. "It's not our lifestyle. But we want to carry on some of our family traditions for Evie. The more we get settled in Sioux Falls, the more we want to hold onto our family food traditions. I grew up on lefse and krumkake but borscht is important to the German family that I married into."
Signe happily shares the old recipe. Awhile back, she met Kristin Tanner at the Living Word Free Lutheran Church. The two young wives became friends while serving in the same ministries, and they also discovered that both of their families shared roots in Eureka. In fact, Kristin's mother is Marilyn Wenzel Nef, the daughter of the Eureka couple who founded The Borscht Kettle.
"Kristin had never made it," Signe says, "so I shared some of our borscht with her family." Kristin now makes it herself, using her grandmother's recipe.
And that's how borscht holds people together.
---
Schumacher Family's Borscht Soup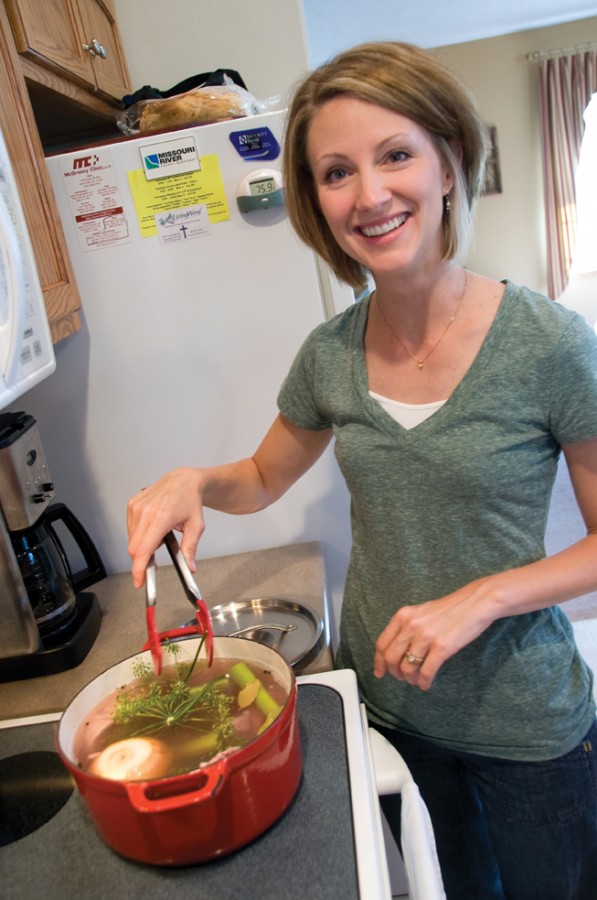 Signe Schumacher grew up on lefse and krumkake, but keeps the borscht tradition going for the German family she married into.
Editor's Note: This story is revised from the May/June 2011 issue of South Dakota Magazine. To order this back issue or to subscribe, call 800-456-5117.