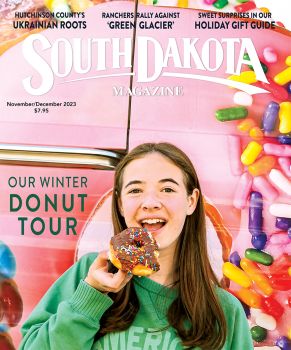 Subscriptions to South Dakota Magazine make great gifts!
Subscribe today — 1 year (6 issues) is just $29!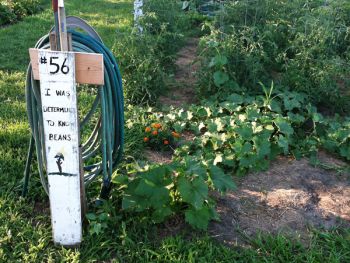 Trial and Error at the Community Garden
Jul 17, 2013

Community gardening has a long history in the U.S. It began in the 1890s in Detroit then the government promoted community gardens during World War I to supplement food supply. Gardens helped the unemployed during the depression and the federal victory garden campaign during World War II was used to show patriotism and build morale. Interest dropped off a little after the war, but there was a resurgence in the 1970s and community gardens have been growing ever since (pun intended).
Our Yankton Community Garden started in 2009. It's sponsored by the Healthy Yankton Committee with grants from the South Dakota Department of Health and the Avera Health Community Service Fund. It's great for people who don't own a yard or don't have the space. Our yard is too shady to grow vegetables, so this is the 4th year my husband and I have gardened in the plots on the west side of town.
We lease two 12' x 18' plots for $20 each. Volunteers till the plots at the beginning of the season and water is free—just bring your own hose. Each plot is marked with a 2 x 4 painted with a folksy quote or saying, like "God made rainy days so gardeners could get the housework done," or "You can bury a lot of troubles digging in the dirt." My husband's favorite is "I was determined to know beans."
We began our first garden without any real horticultural skills. And we're no master gardeners today, but here are a few things we've learned while digging in the dirt.
Though "Sneak Some Zucchini on Your Neighbors Porch" day implies otherwise, zucchini is not foolproof. My first zucchini plant got vine borers. I performed plant surgery, slicing the base of the plant to dig the offending grubs out, but the poor thing never fully recovered. Now I watch for moths that lay their eggs on the stems and apply organic pesticide accordingly.

"Water evenly" or your zucchini and beets grow in funny shapes and your tomatoes get "bottom rot." I'm still not really sure what "water evenly" means, though. Does that mean water every other day? Apply the water evenly to the ground? Don't stand on one foot while you water? Please tell me below.

Gardening makes you really interested in the weather. I start a lot of casual conversations with "Did it rain last night?" or "Have you heard if it's supposed to storm?" I attribute this to my quest to "water evenly."

Weeding is very satisfying, but if you squat to weed for a long time you will get a serious head rush when you stand up. Sit or bend over.

When planting, leave more space between plants than you think you'll need. And even if it seems wasteful, thin plants early and generously. I'm still learning this one. Our melons are slowly taking over and they're nowhere near finished growing. Sigh.

Always bring a bag or bucket to your plot once mid-summer hits. Even if you think nothing will be ready to pick, your garden will surprise you with a small harvest.

Last but not least, if your dog poops in your compost pile forget about using it to fertilize anything meant for human consumption. This one's not quite community garden related, but helpful nonetheless.
I'm sure my list is unimpressive to the expert gardener, but if you'd seen our first attempt you'd know we've come a long way. What are some of your gardening tips? Do you garden at home or rent a plot?