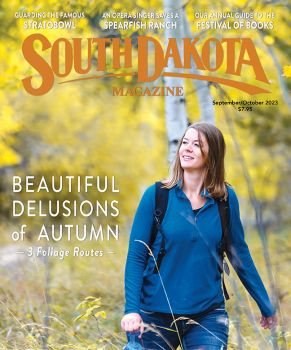 Subscriptions to South Dakota Magazine make great gifts!
Subscribe today — 1 year (6 issues) is just $29!

Taking a Bite Out of McPherson County
Aug 9, 2016
By John Andrews
McPherson County may be the tastiest county I've visited in my time at South Dakota Magazine.
The editor sent me there several years ago to write a story about the region's German heritage and culinary traditions. Not realizing my fondness for German food and my stomach capacity, he probably had second thoughts upon seeing the reimbursement receipts. Nevertheless, it was a fascinating couple of days learning about how these South Dakotans have preserved their culture through food.
Several Civil War veterans initially settled the county, which seems fitting for a place named after Civil War general James McPherson, who was killed in 1864 at the Battle of Atlanta. Captain Samuel Prescott Howell was among the first, coming in the fall of 1882 and later becoming a county commissioner. Veteran Bela Dexter staked a claim near the North Dakota border. Captain E.D. Haynes was among the founders of Leola, named for his daughter.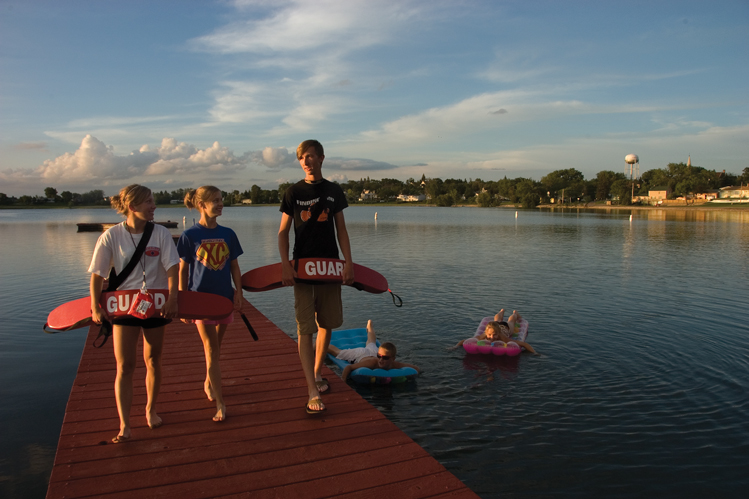 Lake Eureka is a peaceful summertime recreation spot.
Another early homesteader was literary great Hamlin Garland. A monument to Garland stands near his later home in rural Brown County, but the writer claimed a spot about 9 miles south of Leola in 1885. It is said that he scribbled notes about his homesteading experience all over the interior walls of his shack.
Although immigrants from several countries in Northern Europe settled McPherson County after its creation, the vast majority were Germans from Russia. In 2000 (the last year the federal government asked about ethnic heritage), more than 80 percent of people in Eureka claimed a German background.
Many of the Germans who came to Dakota Territory had spent decades in Ukraine, living under favorable condition offered by Catherine the Great, who wanted to turn the region into Europe's breadbasket. When Czar Alexander II came to power in 1871, Germans began to leave.
It's no wonder, then, that the predominantly German town of Eureka became the greatest primary wheat market in the world. By 1897, two-thirds of the world's wheat crop was shipped from Eureka, a rail point that served farms within a 75 mile radius. On some days, as much as 30,000 bushels left town by rail. But the heady times were gone nearly as quickly as they had arrived. Advancing railroads meant farmers could ship from points closer to their homes, and the Eureka wheat boom slowly abated.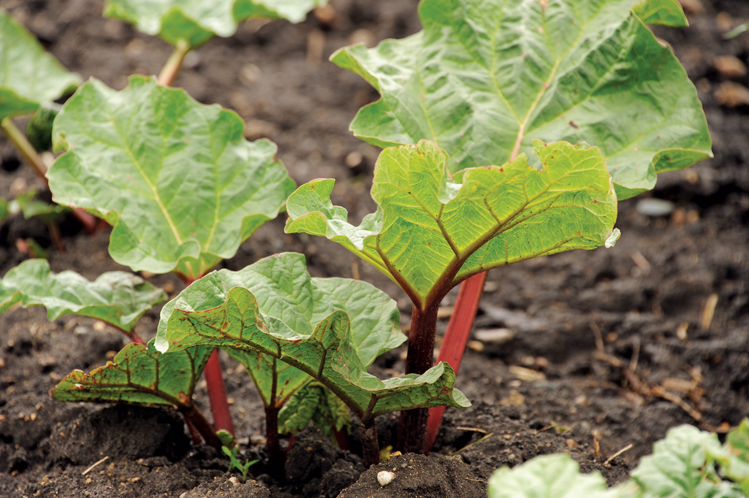 Rhubarb, native to the Volga River area of Russia, does well in Leola, the world's Rhubarb Capital.
Nevertheless, the town of Eureka grew into McPherson County's largest city, boasting about 850 people today. In a twist common in many developing counties, the smaller city of Leola (pop. 457) became the county seat. Much of the credit for that is given to Charles Herreid, another early homesteader who became McPherson County's first clerk, register of deeds and later governor from 1901 to 1903.
Leola has also proudly proclaimed itself the Rhubarb Capital of the World. The town's rhubarb celebration began in 1971 as a simple baking contest, but grew to include parades, contests, music, rhubarb royalty and, of course, as many rhubarb concoctions as you can imagine. The next Rhubarb Festival is set for June 2017.
Food is important to the people of McPherson County, especially the ethnic German staples they ate while growing up. I visited Kauk's Meat Market in Eureka, where Larry Kauk prepares German fry sausage that he sells in markets around eastern South Dakota and ships to McPherson County natives from coast to coast. "I'm sorry if you're here looking for some big secret," I remember him saying. "Because there isn't one."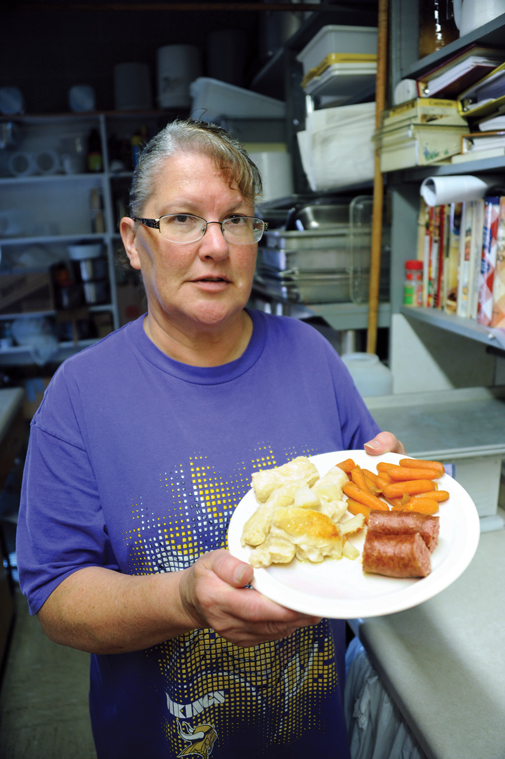 Vicki Lapka is known for her strudels, served with sausage and carrots on German meal day at the Lyric Lanes in Eureka.
The key is sticking to tradition, and preparing sausage the way his family did near the town of Artas. People from California to New York know you can't find it in a package labeled Oscar Meyer, which is why they turn to the hometown butcher.
Unfortunately, some of that tradition is in danger of being lost. I stopped at the Lyric Lanes, which serves a weekly traditional German meal thanks to Vicki Lapka. She is known around the region for strudels.
Lapka, a fifth-generation descendant of Germans from Russia, learned strudels and other German delicacies from her grandmother while growing up around Mound City. But after high school she and her husband moved to the Twin Cities, and those German recipes lay dormant for 15 years. In January 1992 they moved back to Eureka, bought the Lyric, and inherited its Saturday night German buffet. Lapka's mother helped her relearn German cooking, and the weekly German meal (moved to Tuesday afternoons) remained a tradition.
Three electric skillets sat atop her counter when I arrived. She added water, lard, onions and potatoes, then set strudels on top and closed the lid. "If you open them while they're cooking they just drop," Lapka explained. "You'll have flat dumplings and flat strudels. My kids learned the hard way. If I was making dumplings or strudels, they stayed out of the kitchen."
Strudels are temperamental. If the water is just a few degrees too cool or too hot, the yeast won't react correctly. And they must remain covered. Since Lapka can't see them cook, she tips the pan after 30 minutes of cooking and listens to see if they are frying inside. If there's no sizzle, she knows they need more time. Before I left, Lapka showed me freezers packed with 150 pounds of strudels to fill orders from townspeople.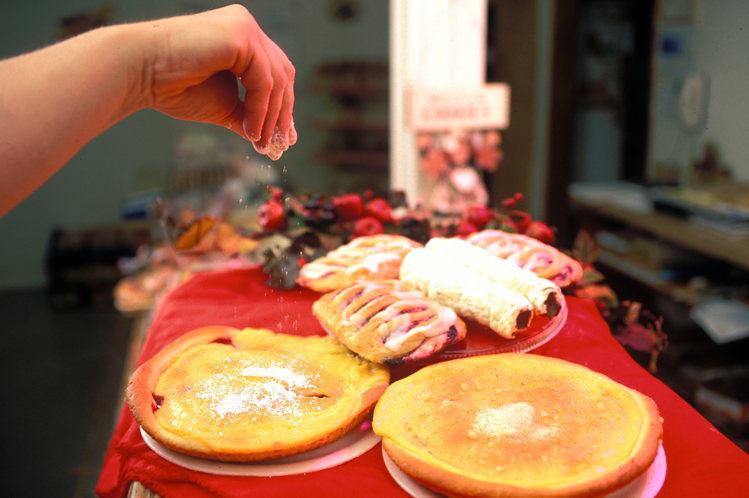 Kuchen, a fruit-filled pastry, is a traditional German sweet and South Dakota's official state dessert.
But she worries that traditional recipes will be lost if younger chefs don't take time to learn. "They'll come in and ask for a pan full of strudels. They could make them, but they don't know how. It's so easy to just come buy the strudels, go home and cook them, but they don't want to do that. If we don't keep this going, we're going to lose it all."
One German food that may stand the test of time is kuchen, South Dakota's official state dessert thanks to the efforts of several McPherson County bakers who lobbied the legislature in 1999. They traveled to Pierre during session and presented a skit that conveyed the importance of kuchen in the lives of early pioneers. They dressed in period costumes and even brought samples. The governor said he'd sign the bill, but it was defeated in the House.
The bill was reintroduced in 2000. This time, Eurekans sent letters to towns around the state seeking support for kuchen's candidacy. Seventeen cities replied, and the letters were brought to Pierre as evidence that kuchen enjoyed statewide support. This time, the legislature agreed.
Travelers can find kuchen in supermarkets throughout north central South Dakota, and the Eureka Kuchen Factory specializes in a variety of flavors. If I ever head north again, I'm bringing a cooler. Just don't tell the editors.
Editor's Note: This is the 27th installment in an ongoing series featuring South Dakota's 66 counties. Click here for previous articles.