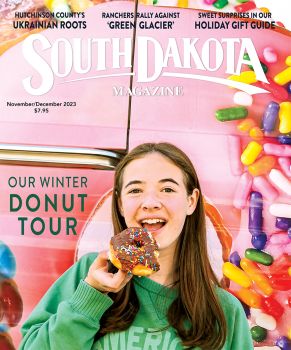 Subscriptions to South Dakota Magazine make great gifts!
Subscribe today — 1 year (6 issues) is just $29!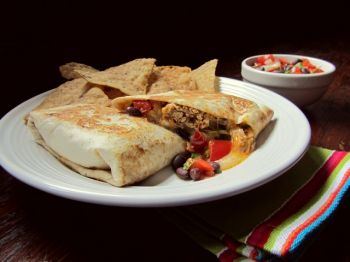 Spring Chickens
Apr 4, 2013
It is the time of year when chicken coops at the area farm supply stores taunt me. Cute, wooden-framed, wired cages that would fit perfectly in the back corner of our yard beg for clucking chicks to fill them. I dream of fresh eggs and gloss over the "harvest" portion of having a roasted chicken in my oven that I personally raised. Then, reality hits. Not only would my hunting-bred dachshunds have a field day with captive fowl (they already terrorize the squirrels and rabbits), but the fact is, I.Am.Lazy. Very lazy.
Chickens aren't cute balls of fluff that can stand in the palm of your hand for an Easter photo op and then magically turn to glorious egg-laying creatures. They are livestock. Livestock, even a backyard chicken coop, is work. A lot of work. Chickens require feed, and water, and cleaning the coop, and much more tending than my lazy self would be willing to handle day after day after never-ending day.
As a friend from The Outdoor Campus says, "Animals have a place in the world: wild animals should stay wild, farm animals belong on a farm, and pets are for home." Their offices are often overrun with calls from the well-meaning who have purchased a cute duck or chick for Easter and are overwhelmed when the fowl grows into the livestock it was bred to be. A bit later in the season, the wildlife experts will chime again and again, "If you care, leave it there" when calls turn to "rescues" of what seem to be abandoned wild critters. We, the public, are kind people — we just aren't always that smart when it comes to animals.
For many of us, reality is that the poultry best suited for us has been raised by someone else and is already butchered, ready to prepare in our kitchens. Even better might be a rotisserie chicken with skin basted and browned to perfection and tender, juicy breasts and thighs. That suits even the laziest among us.
Walk away from the baby chicks and architecturally beautiful chicken coops. Shred that rotisserie chicken (or your own grilled or roasted chicken); toss with some flavorful, Tex-Mex seasonings; stir together some beans and salsa; add a little cheese; and wrap up in a tortilla for a delicious burrito. Toast that plump tortilla wrap in a hot skillet and serve with corn chips and additional salsa on the side. Easy, delicious, and puts the chicken right where it was meant to be: In.My.Tummy.
---
Chicken and Black Bean Burritos
Adapted from Cooking Light
1/4 cup water
Juice of one lime
1/2 teaspoon Ancho chile powder
1/4 teaspoon cumin
1/4 teaspoon black pepper
1/8 teaspoon red pepper
2 cups shredded chicken (rotisserie, grilled, or roasted)
1/4 cup green onions, sliced
1 cup canned black beans, rinsed and drained
1/2 cup salsa (refrigerated, canned, or fresh homemade)
4 8-inch flour tortillas
1/2 cup Monterey Jack cheese, shredded
1/2 cup cheddar cheese, shredded
Cooking spray
Bring first six ingredients to a boil in a small saucepan. Stir in shredded chicken and green onions. Combine beans and salsa. Spoon 1/4 cup bean mixture and 1/2 cup chicken mixture down the center of each tortilla; sprinkle with cheese. Roll up. Heat a large skillet; coat with cooking spray. Add 2 burritos. Place cast-iron or other heavy skillet on top of burritos, and cook for 3 minutes on each side. Remove from pan and repeat for remaining 2 burritos. (Serves 4.)
Fran Hill has been blogging about food at On My Plate since October of 2006. She, her husband and their three dogs ranch near Colome.