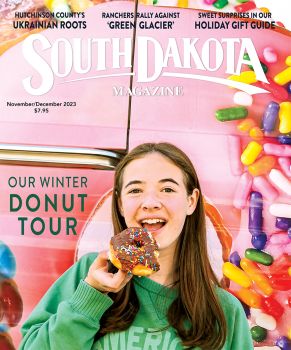 Subscriptions to South Dakota Magazine make great gifts!
Subscribe today — 1 year (6 issues) is just $29!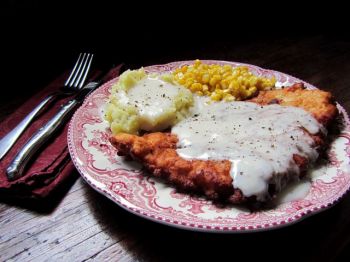 My Thing
Mar 11, 2013
By Fran Hill
Without a doubt, my mother-in-law's specialty was fried chicken. A true farm woman, she raised hundreds of chickens, butchered them with practiced precision, and fried them up to golden perfection … if you like fried chicken. Quite honestly, I don't really care for it. This has always been a bone of contention with Hubs' family. They are fried chicken junkies. If there would have been a vote before the wedding, I probably would have been voted out. Their love of fried chicken is that strong, and my indifference matches it.
A couple of times, I did try to fry chicken for Hubs. Every time, I was told that it wasn't like his mom's. I shelved the vats of hot oil, and tried to make oven fried chicken my thing, but my heart wasn't in it. The skin, the bones, getting your hands all messy while gnawing on a drumstick, it all just wasn't for me.
However, I do have a deep and abiding love for Chicken Fried Chicken. Buttermilk dipped, butter cracker crumb coated, and fried to crispy excellence, Chicken Fried Chicken has all the incredible indulgences of fried chicken without the bones and skin that put me off. Plated with garlic mashed potatoes, corn in butter sauce and lots of peppered milk gravy, this is my thing.
---

Chicken Fried Chicken

4 boneless skinless chicken breasts
1/2 cup flour
1/4-1/2 teaspoon fresh ground black pepper
1/4-1/2 teaspoon kosher salt
1/4 teaspoon garlic powder
3/4-1 cup buttermilk
1-2 cups finely crushed buttery crackers (I usually need 1.5 sleeves of Club Crackers)
4 tablespoons peanut oil (or canola oil)

Preheat oven to 350F.
Pound the chicken breasts to 1/4-inch thickness between 2 sheets of plastic wrap, using meat mallet or rolling pin; set aside. (This is the most awesome way to relieve tension.)
Combine flour and seasonings in a shallow dish.
Pour buttermilk into a second dish.
Spread crushed crackers on a plate.
Submerge chicken breasts, one at a time, into the buttermilk.
Dredge in seasoned flour.
Dip into buttermilk again, then into crushed crackers to coat thoroughly, pressing with fingertips to adhere.
Heat oil in a 12-inch skillet over medium-high heat.
Add chicken; cook 2 to 3 minutes on each side until golden brown and cooked through. (Will have to do this one or two pieces at a time.)
Remove to oven safe platter or cookie sheet (I use a baking stone); place in oven to keep warm. (Serves 4)
Fran Hill has been blogging about food at On My Plate since October of 2006. She, her husband and their three dogs ranch near Colome.