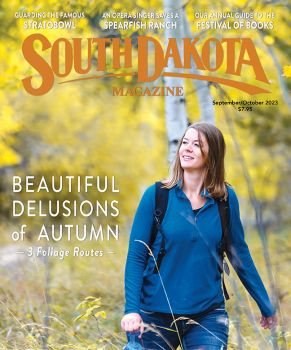 Subscriptions to South Dakota Magazine make great gifts!
Subscribe today — 1 year (6 issues) is just $29!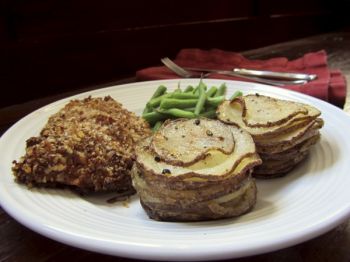 Gadgets for the Cook
Dec 12, 2013
By Fran Hill

I like to think that I am not a gadget person. Gadgets take up precious space, often require outlets in places that our 100-year-old home probably doesn't have an outlet, and overall just seem like more trouble than they are worth.
This past year, I have also been working on minimalizing my…umm…hoard…err…possessions. Like many others, it seems that I just have too. much. stuff. Gadgets are some of the first things finding their way into the "donate" bins.
So, with all that being said, here I am recommending two gadgets for making things easier in the kitchen. A food processor and a mandolin slicer were key in the simplicity of prep for a weeknight meal of pecan-crusted chicken and au gratin potato stacks. Certainly, a quality knife and a steady hand could produce the same results, but with time often an issue when dinner rolls around on Monday through Friday, I am endorsing a couple of gadgets to ease the load.
A food processor creates the perfect texture when chopping toasted pecans for the chicken. Bigger chunks give substance to the breading, but the finer pieces created by pulses of the sharp blade coat the chicken beautifully in a uniform crust. The contrast of sweet, but tangy mustard and nutty pecans marry deliciously with juicy baked chicken.
I have a full-size food processor that was a Christmas gift many years ago, and have found numerous uses for it, but many smaller versions are available that would more than suit the requirement of chopping nuts for a crumb coating. Pulsing hard cheeses, homemade salad dressings, crushing spices, and even making nut butters will make the gadget more than just a one-hit wonder.
Some might scoff at the necessity of a mandolin slicer in every kitchen, but I assure you that once you have whipped out a plethora of perfect slices of potato, cucumber, onion, apple, carrot, zucchini, celery, or any firm fruit or vegetable for your waiting recipe, you will agree that mandolins are magic. In seconds…if you are careful…a large potato is a pretty stack with butter and cream. Baking time for the au gratin stacks is reduced by the personal size of muffin tin gratins making a creamy, cozy, comforting side dish that is meant for a weeknight. Do please be careful, though. Mandolins are quite sharp, and bloody potatoes are not that tasty. (Unfortunately, I speak from experience.)
In my opinion, a food processor and a mandolin slicer are two gadgets definitely worth it to get pecan-crusted chicken and au gratin potato stacks onto your plate in minimal time. What gadgets do you love?
---
Pecan-Crusted Chicken
Adapted from Every Day with Rachael Ray
1 cup pecans, toasted
1/2 cup bread crumbs (Panko adds more crunch; regular help form a more uniform crust.)
1 teaspoon dried basil
4, boneless, skinless chicken breasts
1/4 cup honey mustard
Preheat oven to 400F. Using a food processor, chop the pecans into fine crumbs. Transfer to a plate and combine with bread crumbs and basil. Rub each chicken breast with honey mustard, then coat with the pecan mixture. Arrange on a baking sheet that has been sprayed with cooking spray. Bake until the juices run clear, 15 to 20 minutes. Serves 4.
Au Gratin Potato Stacks
Adapted from Everyday Food by Martha Stewart
2 medium russet potatoes
Coarse salt
Freshly ground black pepper
2-3 tablespoons unsalted butter, melted
6 tablespoons heavy cream
Preheat the oven to 400F. Grease 6 cups of a muffin tin with a little butter. Thinly slice the potatoes with a mandolin slicer. Place 2 slices of potato in each cup, brush with melted butter, and season with salt and pepper. Continue adding potatoes, brushing with additional butter and seasoning every few slices, until cups are filled. Pour 1 tablespoon of heavy cream over each. Bake until potatoes are golden brown and tender, 30-35 minutes. Run a knife around each gratin to release from cup and serve. Serves 4-6.
Fran Hill has been blogging about food at On My Plate since October of 2006. She, her husband and their two dogs ranch near Colome.