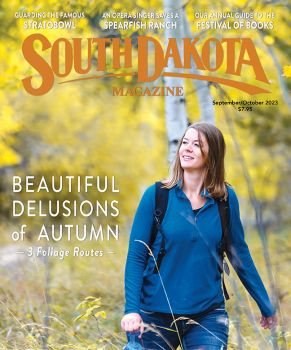 Subscriptions to South Dakota Magazine make great gifts!
Subscribe today — 1 year (6 issues) is just $29!

Clocks, Cars & Tractors
By Bernie Hunhoff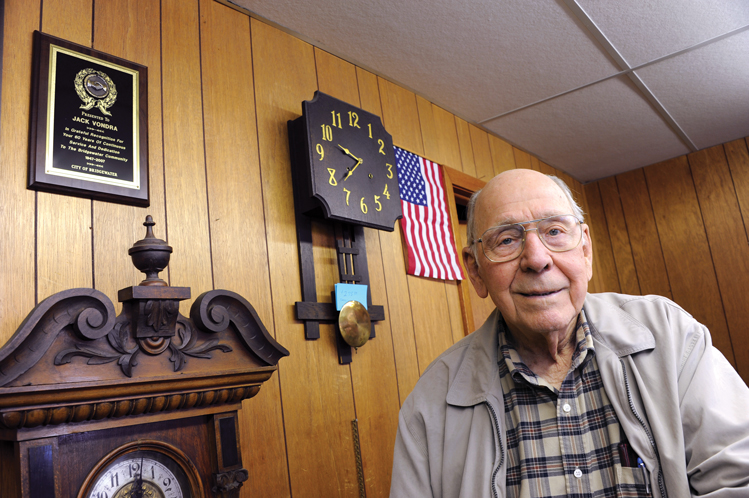 The origin of Jack Vondra's jewelry store on Bridgewater's main street can be traced to a shop started in 1884 by A.G. Gullander, an immigrant watchmaker from Sweden.
Visit Bridgewater's Main Street for a glimpse of South Dakota small town salesmanship from 50 years ago.
Jack Vondra has been repairing clocks and selling diamonds in the same jewelry store since 1947. He still tends to his display window, even though the foot traffic in this McCook County town of 500 has dwindled to almost nothing.
A block south, Steve Sievers sits on a stool in the farm store where his father, Abe, once sold horse-drawn plows. The odor of oil and grease is rich in the air, a welcoming scent to all who love old tractors, and that's the only kind of people who still step through the door.
Just west of Sievers', Ed Meyer and his son, Craig, tend to the cars of Bridgewater. They lost the official Ford dealership years ago, but a white 1967 Mustang gleams in the showroom, surrounded by Ford memorabilia.
Kevin Stahl, 36, just built a new building on Main Street for his high-tech company Native Seed Testing (NST). Stahl thought about locating his company on the family farm near town, "but there's something about being on Main Street," he says. Especially when the neighbors are local legends.
"Jack is right out of a Norman Rockwell painting," says Stahl. "Up until a couple of years ago, he showed up every day in a three-piece suit with a vest and a tie. I wondered ever since I was a kid what he worked on in his shop."
Jack Vondra came to Bridgewater in 1947 to apprentice at a jewelry and clock repair store that dates back to 1880, the year the town was founded. "I got $25 a week and a place to sleep upstairs above the shop," he says.
He married a local girl and soon bought the store. He had opportunities to leave Bridgewater for bigger cities. "But my kids were able to walk to school. I was able to walk to work. I never had to lock the door. And I always liked the people."
Vondra, now 89, can recite from memory where all the town's long-gone grocers, bankers, barbers and hoteliers were located. It's a talent he shares with Eddy Meyer, the ex-Ford dealer who has made a hobby of researching Bridgewater's business history. He says rise and fall of business tells the story of the town.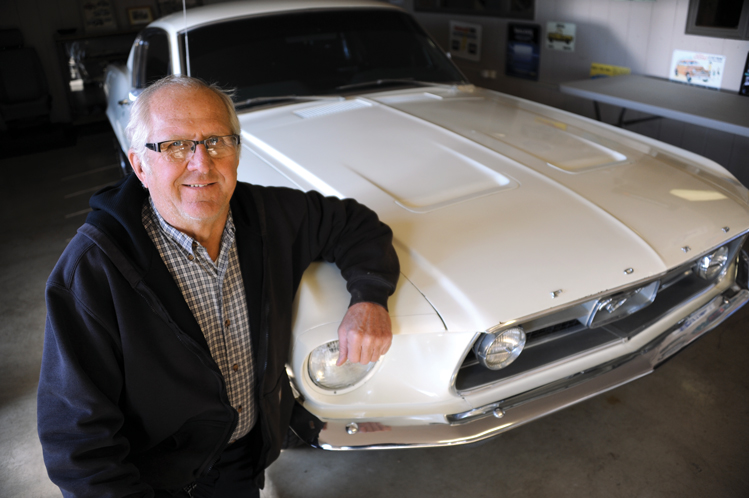 Ford Motor Company closed the Bridgewater franchise years ago, but Ed Meyer can still find you a new car.
"The train came through in the 1880s and that's what got the town started," Meyer says. "Three or four trains loaded with people would stop here, and they all had three or four passenger cars on each train and the town was full of restaurants and hotels. Then Highway 16 came right through here and we had seven gas stations at one time." Bridgewater also had three major car dealerships. Meyer's dad landed the Ford franchise in 1945.
Meyer says the community also had some interesting personalities, including Henry Beebe, the proprietor of a general store who was a personal friend of Mark Twain. Beebe is a character in several of Twain's novels. Sparky Anderson, the legendary pro baseball manager, was born in Bridgewater in 1934, the same year Highway 16 was paved and promoted as the Custer Battlefield Highway. Sparky's father played amateur baseball and tried to feed five children in the Great Depression by painting houses but in 1942 he left for greener pastures in California.
The railroad and Highway 16 helped Bridgewater develop, but the town missed a third wave, the construction of Interstate 90, by seven miles. "One by one the gas stations and the stores started dropping off," Meyer said. "Those of us who are still here, we eke out a living but here I am nearly 70 and I'm still working, so you don't get rich."
Steve Sievers agrees that times are tough. "The interstate highway system sealed the fate of a lot of small towns," he says.
Ten years before the Meyers were selling Fords, the Sievers were pedaling Allis Chalmers tractors to farmers. "My dad started here in 1935," says Sievers from his favorite perch on a stool by the counter. Allis Chalmers quit making its orange tractors in 1985 and closed for good in 1998, but the company logo still hangs above Sievers' front door.
"What I'm here for is to take care of the people who took care of me for a long while," he says, meaning nobody should have to scrap their old tractor for lack of a carburetor kit. A mechanic works on an old Allis Chalmers in the rear of the store, while Sievers tends to the front office and the phone.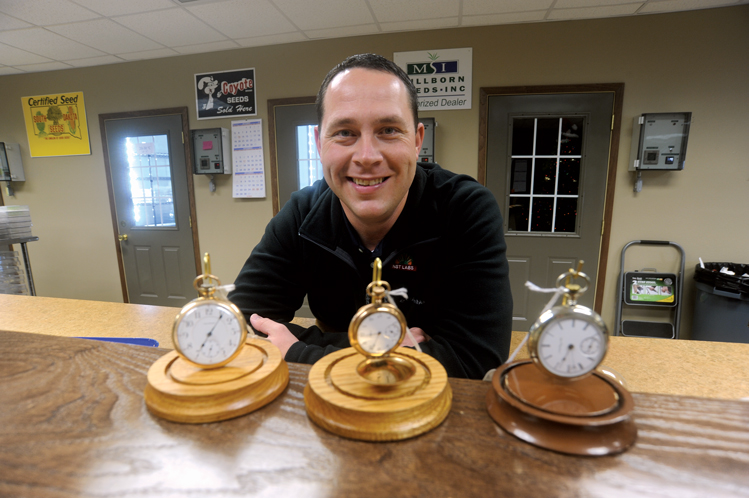 Kevin Stahl started a new business in Bridgewater and marked the occasion by going next door to buy three timeless mementoes.
That spirit of caring for old customers and neighbors may be the thread to the jeweler, the Ford dealer and the tractor guy. Meyer still sells an occasional new car to longtime customers. He and his son, Craig, act as middlemen to dealers in the region.
Jack Vondra says he stays open partly because no one else is repairing old clocks, and also because he likes to help his 24 grandchildren and 18 great-grandchildren when they need rings. "That's a non-profit situation for me, but that's very special."
Vondra, Sievers and Meyer are three very different people, but they share a penchant for salesmanship. No family business survives decades and generations without that skill. Sievers and Meyer are typical South Dakota "good old boys," eager to joke about politics, sports or farming. Both were on the town council, and Sievers' dad, Abe, was a state legislator and a friend of George McGovern, who sometimes ate at their table.
Vondra seems quieter, and more urbane. Think of the hours he spent with fingers and eyes focused on the intricate innards of old clocks. He has run a one-man store, except for help from his daughters at Christmas season when they and the town were younger.
But don't mistake Vondra's quiet nature. He is a salesman, and he sizes up every visitor. "I think I can get you a diamond as big as your shoe if you want," he tells this writer. "I've developed credit ratings from New York to Los Angeles."
He pulls two padded trays from beneath the counter. "You should take a ring home," he suggests. "Keep yourself out of the doghouse."
Kevin Stahl, the street's newest and youngest businessman, says he's always been intrigued by Vondra's Jewelry. "When I was in fifth grade, that's where we went to buy little gold chains to give to our girl friends. I think I bought two or three from him."
Just before Stahl celebrated the grand opening of his seed testing business, he walked over to the jewelry store and bought three old pocket watches. Then he listened for an hour as Vondra explained the history of the watches.
"I have them on display here in the office and I will eventually give them to my kids. I just wanted a memory of our open house date, and I wanted it to be something old from down the street."
Editor's Note: This story is revised from the January/February 2015 issue of South Dakota Magazine. To order a copy or to subscribe, call (800) 456-5117.