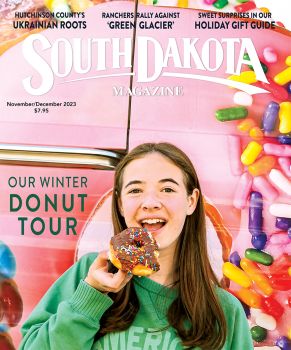 Subscriptions to South Dakota Magazine make great gifts!
Subscribe today — 1 year (6 issues) is just $29!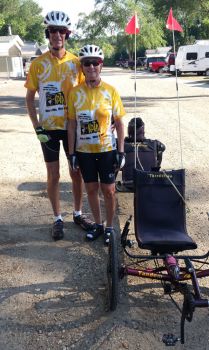 Explorers On Two Wheels
Aug 24, 2016
By Katie Hunhoff
Traveling is one of life's great joys, so we love it when our stories inspire readers to hit the road. Jan and Carl Brush took that idea to the extreme when they used South Dakota Magazine to plan a 360-mile biking trip. The couple has biked in all 50 states, but they like South Dakota best. Our small towns, friendly people, beautiful wildlife and peaceful roads make for a perfect two-wheel experience … or maybe I should say three-wheel. The Brushes use a tandem recumbent trike that is 10 feet long.
They left from Yankton on July 24, and Jan wrote some notes from the first day that shows why they love biking here. "We rode 51 miles total. We saw lots of wildlife. Everyone waved and a herd of horses greeted us west of Freeman at the Jonas farm and ran alongside us for 100 yards inside their pen."
Wildlife and animals were a fun part of the Brushes' adventures. During the eight-day trip they were trailed by a young Billy goat and saw a white pelican and a wood stork near Willow Lake. They also met the most famous pet in Canova — Bill Perrine's rescue dog, Daisy. "The local joke is, if you want to find Bill, find Daisy," Jan told us. After talking with Bill, the Brushes found something they had in common — Bill loves biking, too, but the motorized kind. He and his wife have motorcycled in every state, in all the Canadian provinces, throughout Mexico and much of Western Europe.
Bill was just one of many interesting people the Brushes met when they stopped in several small towns. They met Tammy Zulk in Canova, the creator of a memorial garden. "She started the garden in 2007 as a memorial to her late son, Tyler, who died in a motorcycle accident," Jan said. "Engraved memorial stepping stones are available by contacting Tammy. She etches them herself. The beautiful garden is certainly the pride of the community."
The Brushes visited with Amish families in Canistota who were there visiting the Ortman Clinic. They also made new friends in Bridgewater whom they had read about in our magazine. Jack Vondra, age 91, runs a jewelry store and shared local history.
When the Brushes returned to Bridgewater on their way home, they stopped again to say hello to Jack and his wife, Lois. "Jack moved here in 1947 to start a job repairing watches," they wrote. "He was paid $25 a week and a place to live. In 1951 he and Lois were married and they bought the jewelry store on a handshake agreement. At age 91 he still can be found at the store most days."
The Brushes met many more interesting people and enjoyed some great food, too — more than I can fit into this column. But check their travelogue to see more. We guarantee you'll find travel tips that aren't likely to be found anywhere else in the world.