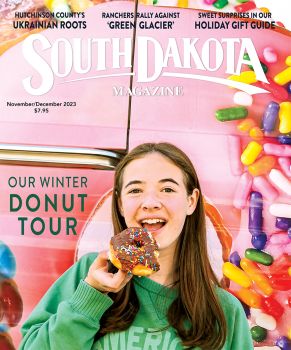 Subscriptions to South Dakota Magazine make great gifts!
Subscribe today — 1 year (6 issues) is just $29!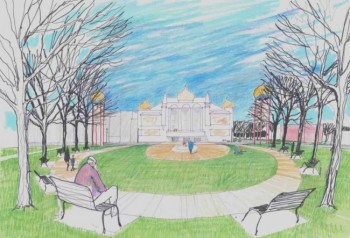 How Will the Corn Palace Look in 10 Years?
Dec 21, 2011
Louis Beckwith would still recognize Mitchell's Corn Palace if he were alive today. The corn murals, spires and flags are similar to those that adorned the first palace in 1892, built after Beckwith and fellow businessman L.O. Gale marched up and down Main Street and collected $3,700 in pledges toward its construction.
Unfortunately times have changed. Visitors aren't coming in droves today like they did for the 1892 Corn Belt Exposition, for which the original palace (built two blocks further south) was constructed. Doug Dailey and the Tourism/Corn Palace Area Development Committee are trying to figure out how to reverse that trend. The solution might lie in a $20 million to $50 million renovation of the 90-year-old Corn Palace and the neighborhood surrounding it.
"We're wondering if it's starting to get tired and showing its age," says Dailey, a Mitchell attorney who grew up in town. "Being from Mitchell, you don't recognize the importance of tourism when you're younger. I graduated in the Corn Palace, I went to youth wrestling in the Corn Palace, and every August there's a weeklong carnival. There are a lot of memories for a lot of locals, but we think there's memories to be made for people from all across the state."
The current palace is the city's third, built at the corner of Main and Sixth in 1921. It's unique because not only is it a tourist attraction advertised around the globe, it's also the city's events center, hosting meetings, athletic contests and other functions. And that's part of the problem. "It's tough to host tourists with events and vice versa," Dailey says. "We want to try to accommodate both."
In the committee's early days, there was talk of a "fourth generation" corn palace, an entirely new structure built in a different location. "But we recognized that the current corn palace is very iconic and recognizable to people worldwide, so we want to preserve the building we have now and improve it," Dailey says.
In the short them that's meant incorporating a historical video that plays regularly throughout the summer and adding Cornelius, a fiberglass corn statue outside the palace that makes for a good children's photo op. But the committee has bigger ideas: added seating and better sightlines, green space, an outdoor stage, more parking and a return to the more ornate corn decorations found in early photographs of the Corn Palace.
"We think there's been a change in tastes among tourists," Dailey says. "The Corn Palace is something you can look at and appreciate its history, but people are more interested in 'edutainment,' a combination of education and entertainment. They don't discern between the two. Right now there are less things for kids to do there. The Corn Palace itself is not really a destination. It's maybe a stopover."
Ultimately the renovation could include the Corn Palace neighborhood and the entire downtown business district. The committee is getting help from an architectural firm, and plans to hold a public input meeting Jan. 5 before concepts are presented later in the month.
Dailey equates a Corn Palace makeover to Sioux Falls' Phillips to the Falls project that refurbished an area of downtown. "Everybody's very proud of Mitchell and the Corn Palace," Dailey says. "We want to get others around the state to recognize that it's not just a tourist trap but something special."