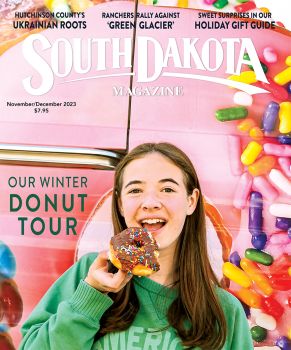 Subscriptions to South Dakota Magazine make great gifts!
Subscribe today — 1 year (6 issues) is just $29!

If At First …
Jun 23, 2016
By Fran Hill
The other day I was quite proud of myself. It was a hectic day, but I had still managed to throw together an old fashioned macaroni salad to be served with the charcoal grilled steaks I had planned for dinner. It really was an old fashioned salad in that there was no recipe. While a couple of handfuls of macaroni boiled, I whisked together mayo, apple cider vinegar, seasoned salt and sugar. It was much like one of my favorite coleslaw dressings, but without measurements. When I dug into the crisper drawer for half a red onion, I also discovered a red pepper and an ear of sweet corn. Diced ham and cheddar cheese came from my deli selections, green peas were pulled from the freezer and fresh parsley was snagged from my herb garden. A macaroni salad was born.
While I waited for Hubs to come home, I did what any self-respecting food blogger would do — I snapped a quick Instagram shot. This is when my pride crumbled. Several commenters wondered why I was serving Lucky Charms with steak. Yeah, when I looked at the contents of the Pyrex bowl sitting on a cutting board beside my perfectly marbled steak, it did look like a bowl of cereal. Food blogger fail.
Old-fashioned macaroni salad may have fallen out of popular favor, but perhaps I can redeem myself with a platter of fresh veggies and vibrant fruit. Cucumber and Mango Salad is tossed with a bright lime dressing and comes together just as simply as that old-fashioned macaroni bowl. It would pair well with any grilled dinner, and nobody should confuse it with cereal.
---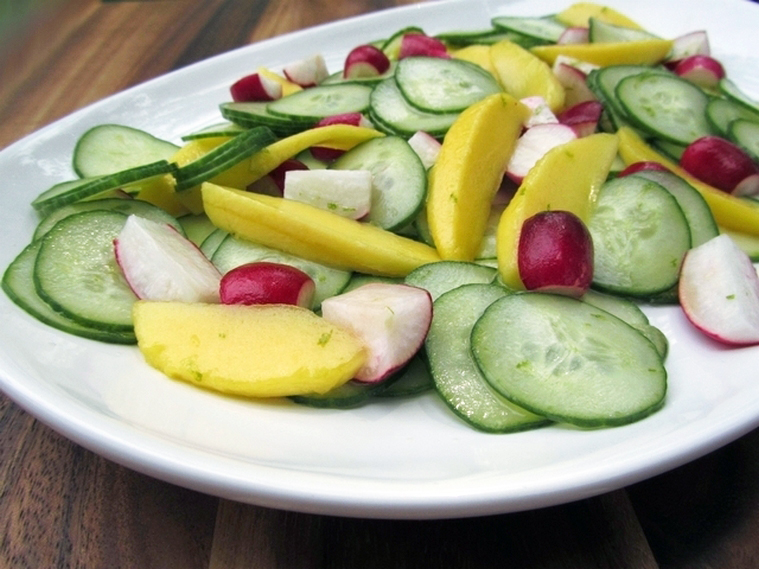 Cucumber and mango salad is a vibrant and fresh complement to any grilled dinner.
Cucumber and Mango Salad
(adapted from Martha Stewart)
1 mango, peeled and cut into wedges
1/2 English cucumber, thinly sliced
1 bunch radishes, halved or quartered
juice and zest from 2 limes
2 tablespoons olive oil
1 tablespoon honey
kosher salt
Whisk the juice and zest from 2 limes, olive oil and honey together. Season with salt. Toss the mango, cucumber and radishes with the dressing. Arrange on a platter for serving. (Serves 4)
Fran Hill has been blogging about food at On My Plate since October of 2006. She, her husband and their three dogs ranch near Colome.