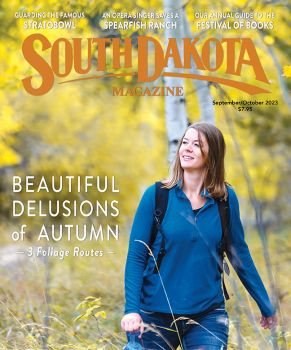 Subscriptions to South Dakota Magazine make great gifts!
Subscribe today — 1 year (6 issues) is just $29!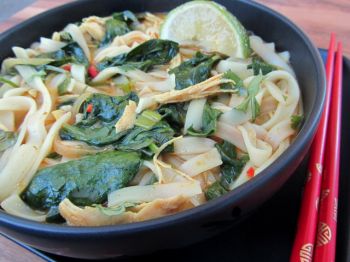 Calling in Sick
Jan 22, 2015
Flu season is upon us, and along with it, various other viruses have joined to wreak havoc on our lives. We wheeze and cough and sniffle and blow. Our foreheads are hot and cheeks are flushed. There are night sweats and headaches and symptoms that it probably isn't polite to mention in a food blog.
My house hasn't been spared. Hubs came home early one day and went straight to bed. Seriously. Straight to bed. Have you EVER heard of a farmer that didn't tough it out through whatever was striking him down? He was sick. SICK. S.I.C.K. Dutifully, I gave him Tylenol and ginger ale, brought out the Vicks and fired up the vaporizer. I tried to nurse him from a distance to preserve my own health.
It didn't work. A few days later, I awoke with a nasty headache, and as the hours wore on, the virus wormed its way through my body and wore me out. I attempted to soldier through it, but it would be a sham if I didn't admit to daily naps and neglecting a lot of my to-do lists. Hubs made time to visit his physician and scored a diagnosis of pneumonia and a prescription for the "good" cough syrup. I knew my doctor was most likely to diagnose a virus and prescribe rest and patience, and didn't bother with a trip to the clinic. Three weeks later and Hubs is mostly back to full speed, though I am still occasionally hacking up a lung and lacking energy.
No matter what precautions we take to protect our health, the bugs are sometimes stronger. Flu shots, vitamins, exercise, healthy diets, Lysol and even self-imposed quarantines aren't always enough of a defense. Viruses happen, and when they do a bowl of warm soup might be as good of a cure as any.
Curried Chicken Noodle Soup hits the spot during the flu season. The extra spice of the curry is welcome when overworked sinuses are meddling with our taste buds. Spinach and red chilies add a nutritional boost. And, rice noodles aren't as heavy for our tummies as our traditional Midwestern egg noodles. A comforting bowl of this Thai-inspired soup is the perfect medicine when calling in sick.
---
Curried Chicken Noodle Soup
(adapted from Cooking Light)
4 cups water
1 (5 1/4-ounce) package wide rice stick noodles
3 cups fresh spinach leaves
1 tablespoon canola oil
1/4 cup chopped onions
4 small hot red chilies, seeded and chopped
2 teaspoons red curry paste
1 1/2 teaspoons curry powder
1/2 teaspoon ground turmeric
1/2 teaspoon ground coriander
2 cloves garlic, minced
6 cups chicken broth
1 (13.5-ounce) can coconut milk
2 1/2 cups shredded, cooked chicken breast
1/2 cup chopped green onions
2 tablespoons sugar
2 tablespoons fish sauce
1/4 cup fresh cilantro, chopped
7 lime wedges
Bring 4 cups water to a boil in a large saucepan. Add noodles and cook 3 minutes. Drain. Add spinach to noodles in a large bowl and toss to wilt with the heat of the cooked noodles. Set aside.
Heat oil in a pan and add onions and red pepper. Sauté until onions are tender. Add red curry paste, curry powder, turmeric, coriander and minced garlic to the pan. Sauté about 1 minute, stirring constantly. Add the chicken broth to the pan and bring to a boil. Add coconut milk; reduce heat and simmer 5 minutes. Add chicken, green onions, sugar and fish sauce; simmer additional 5 minutes.
Pour chicken mixture over noodles in bowl. Stir in cilantro. Serve individual (2-cup) servings with lime wedges. (7 servings)
Fran Hill has been blogging about food at On My Plate since October of 2006. She, her husband and their two dogs ranch near Colome.