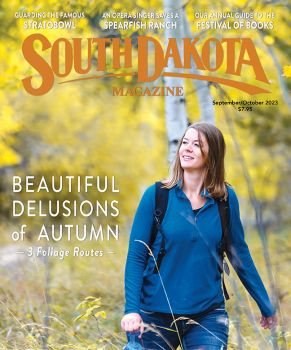 Subscriptions to South Dakota Magazine make great gifts!
Subscribe today — 1 year (6 issues) is just $29!

Relax … It's Winter
Jan 21, 2016
By Fran Hill
I can't scroll through my Facebook feed these days without seeing half a dozen colorful, green foliage photos with announcements of how many days until spring arrives. The recent bout of below zero wind chills seem to have so many wishing for warmer seasons. Well, stop it.
Stop wishing time away. It is winter. It is supposed to be cold. Put a sweater on and open your eyes. Winter has its own unique beauty and deserves its time.
I get it. Temperatures are brutal. Your breath freezes and frost crystals form in your nose. In our agricultural community, it is more difficult to care for livestock and do chores. Snow removal costs thousands of dollars over a winter season. Bluntly, the cold can suck.
However, winter is also breathtakingly gorgeous. Check out the sparkly new fallen snow. Make time to admire the amazing sundogs. Open your eyes to the flocked beauty of frost covered trees. And appreciate the miles and miles of open prairie blanketed in white as it rests and revives for that coveted green spring.
Watch for wildlife tracks in snowdrifts, and bald eagles soaring in the skies. Be a kid again and make snow angels or go sledding. Long evenings can be devoted to that book you have always meant to read, a challenging jigsaw puzzle or a spirited family game. Hobbies can be curated and developed.
Winter time is slower, but in a good way. It is a time to slow down and appreciate what we have and where we are right now. Winter brings me a peace that doesn't come with other seasons. Spring is hope. Summer brings both hard work and good fun. Fall is full of preparedness. The cold and snow of winter ease the chaos in my mind and allow me to rest and relax. Winter doesn't have to be so bad.
It is still cold; I will grant you that. I counter it with a warm, comforting bowl of soup. Soup is such a relaxing meal that warms us from the inside out. Sausage and White Bean Soup with Kale is simple and adaptive. Like it spicy? Use a chorizo sausage. Do your taste buds prefer something milder? Try smoked kielbasa or even crumbled breakfast sausage. The sausage is an important flavor component to the soup, as its seasonings meld into and enhance the broth. The beans are hearty and kale is a fresh, but earthy addition. Don't wish winter away; fill your bowl with some soothing soup and enjoy the season.
---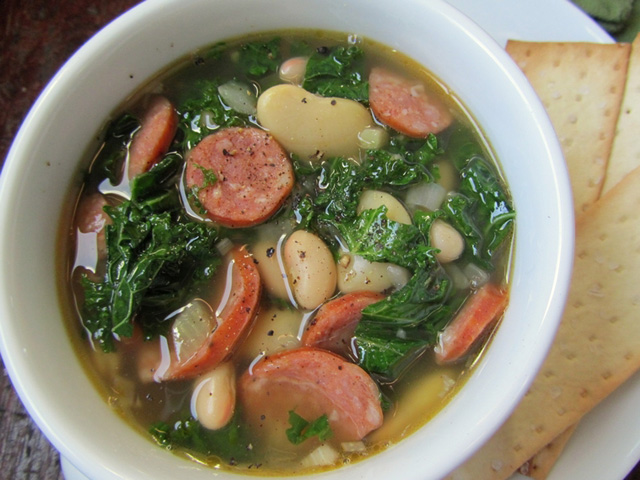 The warmth of sausage and white bean soup is perfect for a cold winter night.
Sausage and White Bean Soup with Kale
(adapted from Cooking Light)
2-4 ounces Spanish chorizo or kielbasa sausage, sliced (alternatively, Italian or breakfast sausage, crumbled)
1 tablespoon olive oil (optional)
1 cup onion, chopped
3 cloves garlic, minced
4 cups chicken stock
2 cans white beans (Cannellini, Northern, butter beans or a combination of your choice), rinsed and drained
4 cups kale, chopped (remove leaves from the tougher stems)
freshly ground black pepper
kosher salt
Heat a large soup pot over medium heat.
Add sausage to the pan and sauté until starting to brown and cooked through.
Add olive oil, if needed, and the onion and garlic; cook until tender.
Add broth to the pan.
Add rinsed and drained beans to the soup and bring to a simmer.
Stir in kale; simmer a few more minutes until greens are tender.
Season with salt and pepper, to taste. (Serves 4.)
Fran Hill has been blogging about food at On My Plate since October of 2006. She, her husband and their two dogs ranch near Colome.