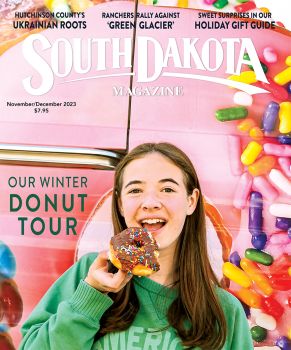 Subscriptions to South Dakota Magazine make great gifts!
Subscribe today — 1 year (6 issues) is just $29!

Chainsaw Masterpieces
Jun 1, 2016
By Michael Zimny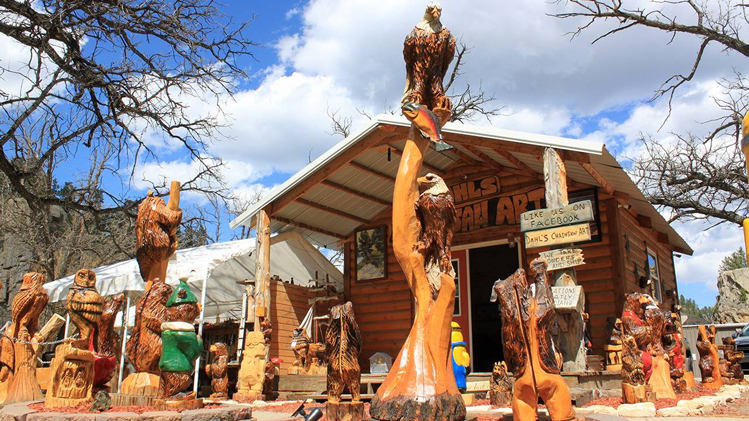 Jarrett Dahl is set to begin his ninth summer of chainsaw art in the Black Hills.
When Jarrett Dahl looks at a log, he sees more than just a log. He sees into the log. Possibilities lurk — like woodland creatures yearning to be freed from timber prisons, by sharknadoes of razor-sharp Husqvarna teeth.
Dahl's received some recognition for his vision. The Orlando, Florida Ripley's Believe It Or Not houses his massive sculpture, carved from a monster cottonwood, of an eagle easy-riding an asphalt-hugging hawg. He's recreated the eagle rider as a fixture at his Keystone shop.
Dahl was raised in Dawson, Minnesota. When he was 18, he went fishing for a couple weeks in the Kenai Peninsula of Alaska. While there, a high school friend's uncle — Scott Hanson, a well-known chainsaw artist in Soldotna — introduced him to the art form. A couple weeks turned into a summer. Dahl was carving bear's heads out of stumps in no time, and kept going back the next three summers.
In Jarrett's eighteenth winter, he started experimenting with selling wares in the lower 48 — at a craft mall in Branson, Missouri. "I took a trip out there with my family," he says, "and they left me there and said good luck. I met another wood carver out there that took me in and helped me out a little bit and I was able to prove to my Dad that I could make a decent living. So I just kept doing it."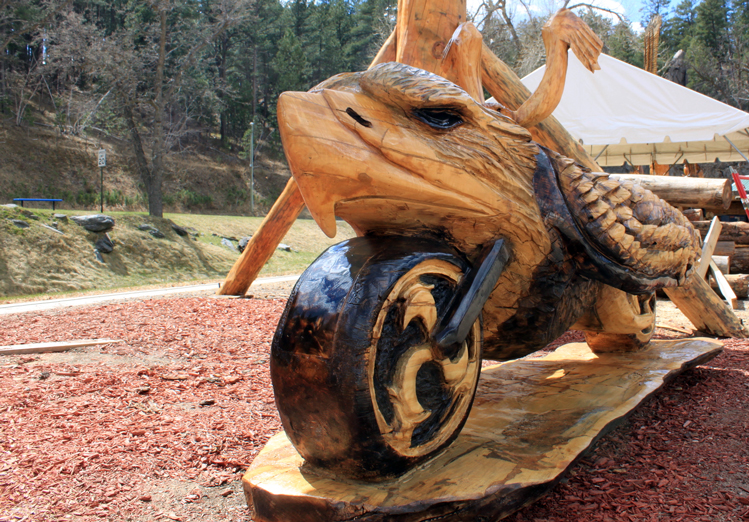 A smaller version of his eagle rider. The larger sculpture resides in a Florida museum.
Between summers in Alaska he tried a shop in St. Cloud, Minnesota. In 2006, he tried his first Sturgis Motorcycle Rally and found a niche. He's been to every rally since. His Sturgis success led to the summer store in Keystone, then to a Hill City shop run by his younger brother Jordan. Over the last seven years, he's run winter shops in Palm Desert, California, then Aspen, Colorado.
As Dahl's Chainsaw Art gets set to open in Keystone and Hill City for its ninth Black Hills summer, this time the brothers plan to stay put well past first frost. "This will be my first winter in South Dakota," Dahl says. "I'm just going to try to make a go of it, try to build up as much inventory as I can. It's kind of nice, because there are no people here, I'm able to get projects done. I appreciate both times of the year."
Even as the paint dries on the sign out front, the Keystone shop is already a woodland Shangri-la in the presidents' shadow. Eagles roost regally or lock beaks in arrested free-fall. There are bears and bears of course. A 16-foot warrior reaches skyward, Minions stand poised to give the people what they want. A Tlingit-influenced totem could trace a line to that first Soldotna summer. What might nine winters bring?
Michael Zimny is the social media engagement specialist for South Dakota Public Broadcasting in Vermillion. He blogs for SDPB and contributes arts columns to the South Dakota Magazine website.