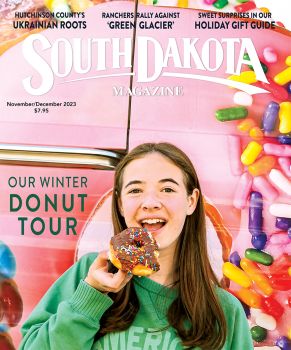 Subscriptions to South Dakota Magazine make great gifts!
Subscribe today — 1 year (6 issues) is just $29!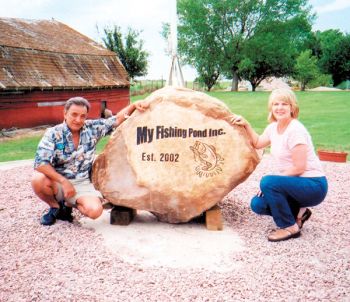 Fishing for Funds
Oct 6, 2014
You may remember John Alvarez. The former Arizona copper miner survived a 1994 car accident near Tucson with a serious head injury – as if a bowl of Jell-O had been thrown onto cement, he told us in 2006. Three months later Alvarez regained his speech and told his doctor he wanted to go back to work. "Really? Where is it that you work?" the doctor asked. He couldn't remember.
Alvarez relearned the alphabet and basic skills like using the telephone and running a television. He knew he'd never return to mining. He also found urban life too frustrating and stressful, so he and his wife, Dee Ann, moved to a small acreage near her quiet hometown of Bridgewater. Alvarez cast for bullheads in nearby Wolf Creek with his son Trevor. Realizing that fishing was good therapy and fostered companionship, he founded My Fishing Pond, a 501c3 nonprofit, in 2002. It's a big, well-stocked pond. Brain injury survivors, children with special needs and the elderly can catch and release fish among the cattails and enjoy burgers from Alvarez's grill. Close to 250 people from 15 different South Dakota facilities visit the pond each year at no cost to them.
Over the years, Alvarez has received donations of labor, supplies and money. And he's constantly fundraising to keep his pond and cookouts going. It's not easy; he isn't cleared to drive a car because of his head injury. But he's put over 17,000 miles on a donated John Deere Gator utility vehicle selling raffle tickets for things like shotguns, gold bars, hotel stays and gift cards. And he's found that to be therapeutic, too. "Thirteen years ago I would not be able to talk to you the way I am now. The fishing pond has made me understand and get my brain going so I can. But my wife says, 'You talk too damn much,'" Alvarez laughs.
This year he could use a little more funding than $1, $5 and $10 raffle tickets can provide. The concrete walls of the pond are deteriorating, and he needs approximately $8,000 to dig up the concrete and replace it with a sodium benzonite pond sealant. Without this repair, there likely won't be another season at My Fishing Pond.
If you'd like to donate, mail checks to My Fishing Pond Inc., 26331 432nd Ave., Bridgewater, SD 57319, or call Alvarez at (605) 729-9400 to find out how your business can purchase a $500 sponsorship sign with your logo. He'd be happy to chat with you about it.