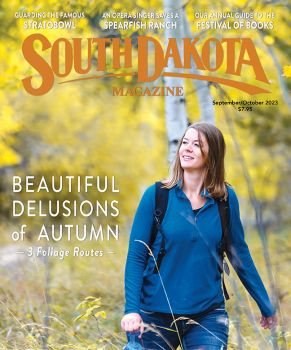 Subscriptions to South Dakota Magazine make great gifts!
Subscribe today — 1 year (6 issues) is just $29!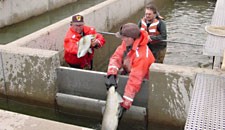 Fishing Report from Pickstown
Nov 16, 2011

The salmon of the Dakotas are migrating southward, thanks to the big flood of 2011 in the Missouri River valley. Katie and I stopped for breakfast last Friday at Fort Randall Bait and Tackle in Pickstown (very fine omelets, by the way). Of course, you can't eat at a bait shop without asking about the fishing.
The waitress gave us a thorough report. The walleye are still biting, and boats are thick below the dam. Plus she said a few anglers have even caught salmon. Now that's a new development for Gregory and Charles Mix counties in South Dakota.
Chinook salmon from the West Coast have been released into the Fort Peck and Oahe reservoirs for a number of years with good results. The waters in those lakes run deep and cold, and the salmon seem to thrive — though they don't grow as big as they do in the Pacific Northwest.
Adult salmon instinctively try to migrate back to the place where they were hatched and released to spawn. In the Dakotas, that would be a government fish hatchery. The cycle is actually completed, because hatchery workers capture some of the salmon and collect the eggs in autumn.
Due to the massive water releases in all six Missouri River dams this summer, some salmon from Fort Peck and Oahe have swam southward into Lake Sharpe and Lake Francis Case. I haven't heard of any reports of salmon caught in Lewis and Clark Lake.
Next October, the adult salmon will try to swim back to the north to spawn ... but they have a giant concrete problem lying ahead of them.