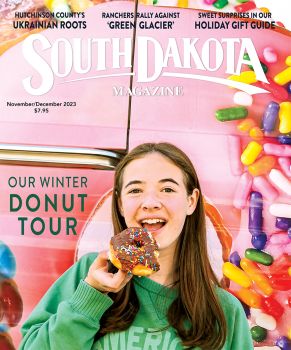 Subscriptions to South Dakota Magazine make great gifts!
Subscribe today — 1 year (6 issues) is just $29!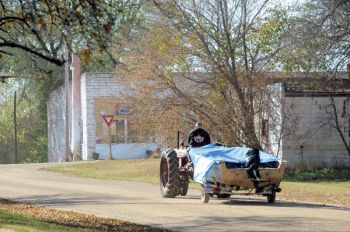 Garden City's Potato Famine
Garden City isn't hard to find. Just watch for the 1,400-foot KELO Television twin towers that have given the town a skyline since 1956.
Dick Pederson was pulling his fishing boat down Main Street with an old Farmall tractor when we visited. He stores his 16-foot craft in a huge warehouse that once held tons of potatoes. "When we were kids and needed money to go to a dance we could always go to Garden City and pick potatoes in the fall or work in the sorting bins," Pederson says.
"My dad started raising potatoes for certified seed," remembers Wayne Fletcher, who lives on the outskirts of town with his wife, Joanne. "They always seemed to grow good in the area around Clark and Garden City."
His dad, Everett, was one of the groundbreaking potato pioneers, along with Charles Blackman who is credited with raising the first crop in 1929. Blackman worked with Louisiana State University to develop a strain of spuds he called Lasoda. He coordinated efforts to find markets for the crops in southern states, Cuba and Hawaii.
Area farmers planted thousands of acres of spuds until McCain Foods closed its processing plant at nearby Clark in the 1990s, bringing on a potato famine as landowners quickly switched to corn and soybeans.
The Maynards are the last potato farmers in the county these days. "My grandfather was raising them 70 years ago or more," says Jory Maynard, a young farmer from Clark. "I didn't raise any this year, but my dad [Marlin] did. We're down to about 120 or 130 acres.
"We just keep hanging on," he says. "It's a lot of work. It's labor intensive and it's hard to find help these days. But it's part of what we do."
The Maynards harvest about 150 hundredweight bags per acre. Their crop will be trucked to Texas, Louisiana and Kentucky in January and February, and used as seed potatoes at greenhouses and small farms.
The potato industry is shrinking, but Garden City still maintains a reputation as a broadcasting center. Wayne Fletcher remembers when KELO-TV of Sioux Falls erected a big tower on the north side of town in 1956 so the company could reach viewers in Watertown, Huron and Aberdeen. Etched even stronger in his memory is a November day in 1977 when the tower blew down.
He was in Garden City when the lights went dark. "I knew the tower had fallen, so I was in a hurry to get home to see if everybody was OK," he says. "I stupidly jumped across downed power lines to get to my place. That's something you just don't do." Fortunately, the lines were dead so he wasn't hurt, and everyone was safe at the Fletcher farm when he arrived.
Fletcher also remembers when sulky racing was a popular sport in town, and a carnival was set up for the equestrians and their fans. Today, the horses and carts are also memories for the town of 53. However, a bustling grain business is still conducted at the Wallace Elevator, with its 10 big bins on the west side of town.
Across from the elevator, the town's historic Opera House remains in use for an occasional wedding dance and the American Legion's annual turkey party.
Pederson, a self-described "escapee" from California, returned to his home country to fish the lakes and restore old tractors. He recently acquired a 1945 "H" Farmall that his father bought in 1945 upon returning from World War II.
A sign in the grain elevator reads, "There isn't much to see in this town but there is a lot to hear."
"That about says it all," says Pederson. "That's why I like it here."
Editor's Note: This story is revised from the January/February 2012 issue of South Dakota Magazine. To order a copy or to subscribe, call (800) 456-5117.