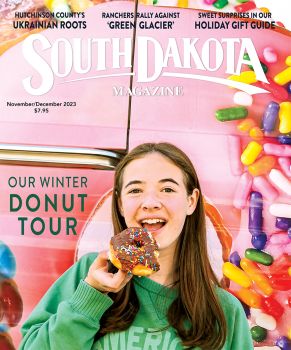 Subscriptions to South Dakota Magazine make great gifts!
Subscribe today — 1 year (6 issues) is just $29!

Inspired by a Prairie Garden
Sep 11, 2018
By John Andrews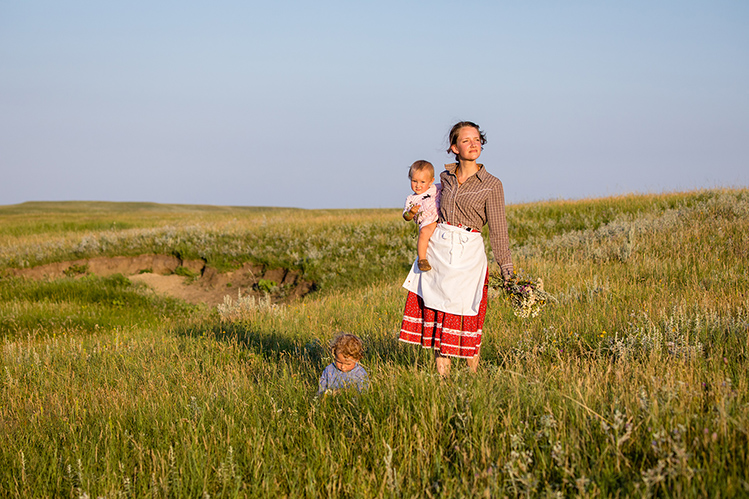 Eliza Blue and her children, Wesley and Emmy Rose, recreate the scene depicted in Harvey Dunn's The Prairie is My Garden.
The September/October 2018 issue of South Dakota Magazine features a story on Harvey Dunn's iconic painting The Prairie is My Garden, and the people and places that may have served as his inspiration. The story is illustrated with a modern-day recreation of Dunn's scene, staged on a summer's evening at a homestead near Isabel.
Christian Begeman and Eliza Blue teamed up to make the image happen. Begeman lives and works in Sioux Falls, but he grew up on a farm near Isabel. His photographs appear regularly in our magazine and on our website. Blue is a singer/songwriter who lives on a ranch in Perkins County.
As they studied the painting and tried to situate themselves as closely as possible to Dunn's vision, Blue was inspired to write a song. "Originally I was trying to channel the mother from the painting, and tell a story of gathering flowers from her perspective, but, as is often the case, the song had its own ideas," she says. "It morphed into a story told by the flowers instead."
Begeman shifted from photographer to videographer, and the two created an impromptu music video for Blue's "The Prairie is My Garden," which you can watch below. If you live East River and would like to see Blue perform live, she is traveling this weekend to several venues with Spearfish musician Jami Lynn. Here's the schedule:
Sept. 13: Pierre Music Store, Pierre, 4:30 p.m.
Sept. 14: Fernson on 8th, Sioux Falls, 7 p.m.
Sept. 15: AME Church, Yankton, 7 p.m.
Sept. 16: Good Roots Farm, Brookings, 6 p.m.