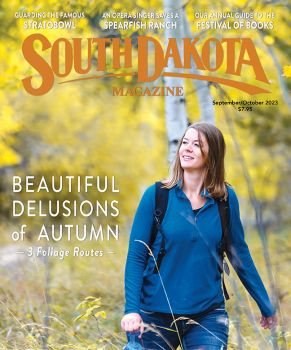 Subscriptions to South Dakota Magazine make great gifts!
Subscribe today — 1 year (6 issues) is just $29!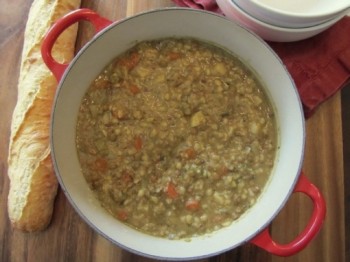 Soup For The Soul
Feb 15, 2012
As I sit to type this, the sun is streaming in the window near my desk and nearly blinding me. My computer tells me it is 52 degrees outside, and my puppies are charging out of the house and rolling in grass that is still green. It feels like spring. However, the calendar says it is February. Here in South Dakota, there is supposed to be more snow than just the little bit remaining in the shaded and sheltered spot on the north side of my house. It is supposed to be cold. I am supposed to want comfort foods.
I am going to let the calendar win. I am going to make soup. Thick. Hearty. Warm-your-bones soup. And then, I might go sit on the patio in the sun and eat it.
---
Vegetable, Lentil, and Barley Soup
adapted from Cooking Light

2 teaspoons olive oil
1 cup chopped onion
4 cups chicken stock
1 cup water
1 bottle beer (I used Amber Ale)
1 cup chopped carrot
1 cup chopped celery
1/2 cup chopped parsnip
1/4 cup chopped parsley
4-6 sprigs thyme, tied into a bundle
1/2 cup uncooked pearl barley
1/2 teaspoon freshly ground black pepper
2 bay leaves
3/4 cup dried lentils
1/4 teaspoon kosher salt
Heat oil in a large, heavy pot. Add onion to the pan and sauté until golden. Add broth, water, and beer; bring to a boil. Add chopped carrot, celery, parsnip, parsley, thyme bundle, pearl barley, black pepper, and bay leaves. Return to a boil. Cover, reduce heat, and simmer for 15 minutes. Stir in lentils; cover and cook 30 minutes more. Discard bay leaves and remains of thyme bundle. With an immersion blender, puree about half of the soup. (Alternatively, remove about 2 cups of soup from pot and process in blender until smooth. Return to the pot with remaining soup.) Season with salt and additional pepper, to taste. Return to a boil. Reduce heat, cover, and simmer about 10 additional minutes until thoroughly heated, stirring occasionally. Serves 4-6.
Fran Hill has been blogging about food at On My Plate since October of 2006. She, her husband and two dogs reside near Colome.