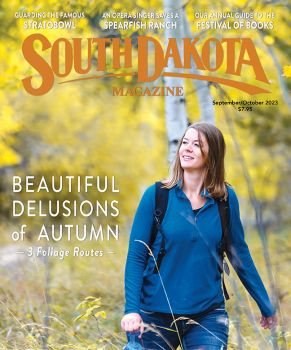 Subscriptions to South Dakota Magazine make great gifts!
Subscribe today — 1 year (6 issues) is just $29!

Little Manor on the Prairie
By Katie Hunhoff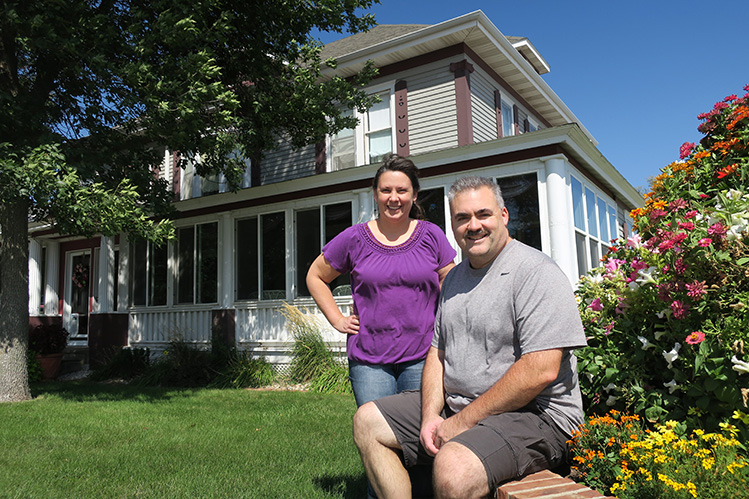 Andy and Jenny Todd, owners of the Prairie House Manor Bed and Breakfast in De Smet, appreciate the connection to Laura Ingalls Wilder and her family.
We arrived at Prairie House Manor right after the morning rush. While the owners, Andy and Jenny Todd, were preparing breakfast we settled into the formal parlor to wait just as a young couple came down the ornate staircase. Feeling a bit like undercover investigators, we asked them if they liked their stay.
It turns out they were serious Laura Ingalls Wilder fans who came to De Smet for their love of the Little House books and the TV show. They introduced themselves as David and Shawna Halley and said they had traveled 20 hours from Ontario, Oregon.
"It's the trip of a lifetime," Shawna told us. "There's such strong history here." Shawna, 29, started watching the show in third grade. "Then I started reading the books and I loved them. I've read them six times, even as an adult."
Shawna's husband David also became a fan. They recently found some Little House DVDs at a yard sale in Ontario for $4 and began a Laura TV marathon. "The stories are just great," says David. "Mr. Edwards is my favorite. He doesn't take any crap from anyone."
Even though they live three big states away, the Halleys know more about Laura's family and the town of De Smet than many South Dakotans. They know that the Ingalls family lived just three doors down from Prairie House Manor. The house, especially to Wilder fans, is known as the Banker Ruth house. Ruth received a quick mention in The Long Winter for purchasing the last sack of wheat in town for $50, more than Charles Ingalls could pay, and over $1,000 in today's money.
Col. Thomas H. Ruth migrated west from Pennsylvania after the Civil War, arriving in De Smet in 1880, the year the town was founded. He built the Victorian house in 1884, where he and his wife Amelia raised a son, Edwin. Ruth soon became an important part of De Smet life; he was town mayor, active in the Methodist church and a mason along with Pa Ingalls. He was an early businessman and president of the Kingsbury County Bank. He also became involved in politics and served as state Commissioner of School and Public Lands.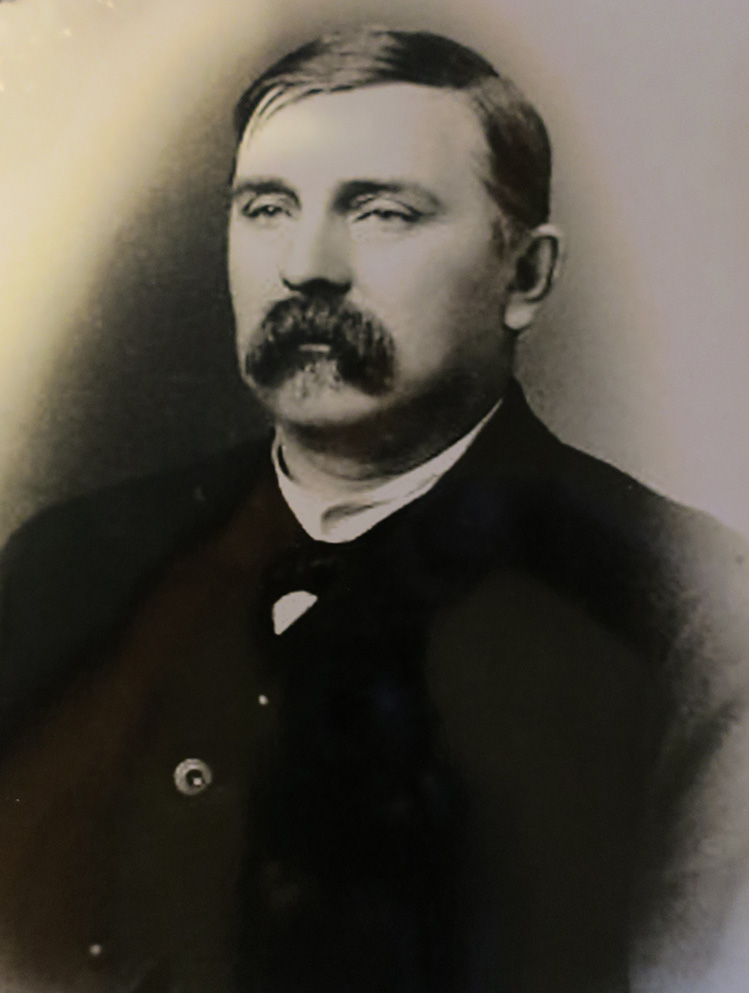 Col. Thomas Ruth
After Ruth passed away in the 1930s, Amelia sold the home to a family who renovated it into four apartments. The grand structure began to slowly decline until Larry and Connie Cheney decided to renovate it into a bed and breakfast in the 1980s.
Over a decade later, another East Coast couple was destined to live in the house. Andy and Jenny Todd grew up and raised a family in New Jersey. "I'm the Laura fan," says Jenny. "In the space of five years or so, our family visited Laura sites for almost every vacation, beginning with Almanzo's boyhood home in upstate New York." In 2007 they visited their last Laura site: De Smet.
They made reservations at the Prairie House Manor. "We sort of feel a connection to Mr. Ruth," says Jenny.
Feeling a connection to De Smet, they purchased the B&B. With their four children (Aubrey, Cassie, Jessie and Jon), they fell easily into life in De Smet. "No stoplights. No traffic, children walking and riding bikes without adult supervision, vehicles and homes unlocked. It felt like a community where people really care about one another. It felt like we had gone back in time 50 years. It still does," says Jenny.
Although De Smet has a population of around 1,000, in the summer it turns into a busy tourist hub for Laura lovers. "We have met some incredibly devoted Laura fans," says Jenny. "More than once, new guests have introduced their daughters, decked out head to toe in Laura gear as Mary, Laura, Carrie and Grace. We've even met a boy named Wilder."
Guests often sit for hours at the B&B and chat "Wilderology," the study of Laura Ingalls Wilder.
We followed as Andy and Jenny tidied the rooms; the house smelled fresh, with a breeze entering through open windows. Andy stripped the bed sheets and told us about some of the people they've met. Such discussions are what he loves best about the B&B. "There have been people here from Germany, Italy, Australia, Japan, all over. I had no idea Laura was popular around the world. The most interesting guest we had was a Muslim from the United Arab Emirates. We had a conversation about politics and religion. Who figures there's a Laura fan in the United Arab Emirates?"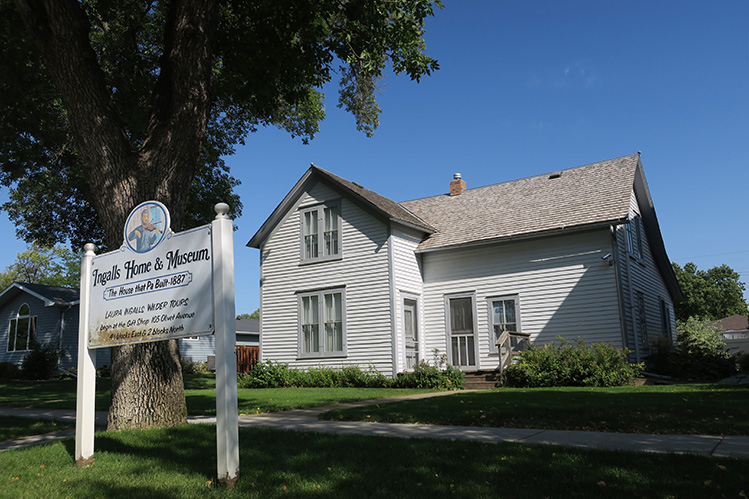 The Ingalls family lived just a few doors down from Prairie House Manor.
The B&B features six rooms, each with a theme (such as My Rose Garden and Americana Medley) and matching dishes. A screened, wrap-around porch offers several seating areas and a pool table. Inside, a formal parlor connects a small guest kitchen with a large breakfast room. Two guest bedrooms on the main floor feature Jacuzzis, and there are four guest rooms upstairs. All rooms have private baths.
Off limits to the guests are a modern kitchen where Jenny makes omelets and pancakes each morning, and a casual living room where Andy and Jenny relax in their spare time. They've made several updates, and are proud the inn's income has doubled since they purchased it over nine years ago. They are offering the business for $379,900 and that includes the property, furniture, sheets, towels and dishes.
The Todds plan to stay in De Smet, but are ready for a slower lifestyle. Both have jobs outside the B&B. Jenny works at the De Smet News and hopes to have more time to volunteer at the Laura Ingalls Wilder Pageant. She plans to keep her ServSafe kitchen license to help out the next owners until they feel comfortable with the business. Andy works for the high school, driving teams to games and managing the school buses.
They hope the Prairie House Manor sells to a Laura fan, someone who would enjoy talking to guests, like Shawna and David, who were just getting ready to leave for the tour. First, they were going to find a hill outside town to video each other rolling down the hill as Carrie does in the opening credits of the TV show.
"I couldn't even sleep last night," Shawna told us. "I can't believe I'm here."
Editor's Note: This story is revised from the November/December 2016 issue of South Dakota Magazine. To order a copy or to subscribe, call (800) 456-5117.