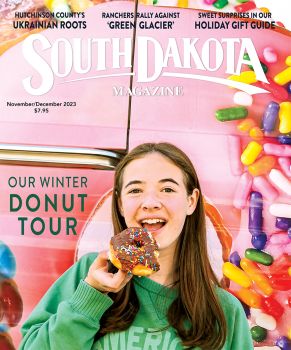 Subscriptions to South Dakota Magazine make great gifts!
Subscribe today — 1 year (6 issues) is just $29!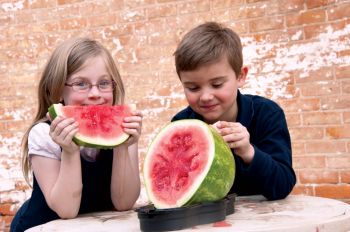 Melon Mate
By John Andrews
Mark Twain called watermelon angel's food, but the wobbly oblong fruit can be the devil to cut. "My wife always had trouble," says Gary Geier. "It rolls around, it's unstable, it's messy. So I decided to come up with something to make process a little easier."
Geier calls his invention the Melon Mate. A specially designed plastic tray holds the watermelon steady and catches juice that escapes while slicing. It works for cutting all melons and carving pumpkins, but Geier, a former realtor, wanted the product to be multifunctional. The Melon Mate's cover can be flipped and used as a cutting board and the tray itself can be used for serving. Still, it's the stability and safety that makes Geier's product appealing, especially for South Dakotans eager to taste the summer's first sweet Forestburg melon. "Nothing else out there on the market helps you stab a watermelon," Geier says. "This is the only product out there that does this."
Geier debuted his Melon Mate just in time for the melon harvest of 2012. A tooling company in Aberdeen manufactures the parts, which are assembled and labeled in Sioux Falls. The Melon Mate sells for $16.99 and is available at stores in Aberdeen, Sioux Falls, Rapid City, Oacoma, Hill City and Keystone.
Editor's Note: This story is revised from the May/June 2014 issue of South Dakota Magazine. To order a copy or to subscribe, call (800) 456-5117.