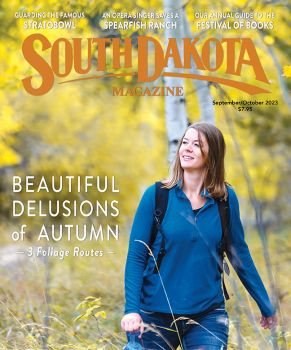 Subscriptions to South Dakota Magazine make great gifts!
Subscribe today — 1 year (6 issues) is just $29!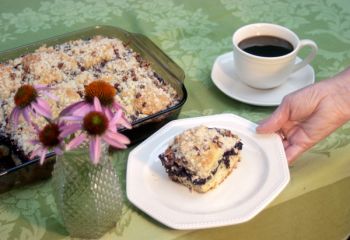 My Mulberry Harvest
A large mulberry tree grew at the back of our farm, between a rusted horse-drawn plow and a pile of lumber. It was a place only curious children and chickens explored. When the summer heat grew high, we hopscotched barefoot through purple splotches of fallen fruit, then reached high in the tree to grab the juicy berries to eat from our hands.
I hadn't thought about mulberries for a long time. But one year, when I heard the berries were ripe, I embarked on a first-time jam-making adventure.
On a sunny, still morning, my husband and I met a friend and his dog, Yeller, at their farm to pick mulberries. We drove through tall wind-waving grass to a row of trees at the side of a field. Yeller leaned out the car window, ears flapping, a big dog smile sucking in cool morning air redolent with growing corn and freshly turned soil.
As we stepped out of the car, we saw a deer patiently watching us from across the field. He must have been interested in the mulberries, too. There were hoof prints and what I thought were deer droppings on the ground around the trees. My companions insisted the pellets came from rabbits. Yankton County must grow some big rabbits.
I'd read that picking mulberries is easy if you shake them into an old sheet or tarp. We shook the branches over an inexpensive paint tarp from the hardware store. In less than a half-hour, we had a large bowl full of mulberries — as well as ticks, ladybugs, spiders, some twigs and a caterpillar. I suspect removing all these adds enough time to the sorting process to make handpicking almost as efficient. But then I also tried to carefully return as many of the little creatures as I could to the outdoors — except for the ticks.
Somewhere in school, I'd learned that silkworms consume mulberry leaves while spinning their silken cocoons. So I wondered if that little caterpillar was a silkworm. With a little research, I discovered that silkworms, like so many other species, sadly don't survive in nature anymore.
According to a Web site I consulted, the mulberries should soak for an hour and then be rinsed and drained. I've since learned that berries absorb water and will lose flavor if you do this. Kay Stevens, author of Wild Season: Gathering and Cooking Wild Plants of the Great Plains, recommends soaking the mulberries for three minutes in salt water — ¼ cup salt to a gallon of water — draining the salt water and then gently rinsing. I removed the stems on the berries with a newly-purchased cuticle scissors, but Stevens writes that she's never seen a need to remove the stems and has never had any complaints.
If you're planning to attend a big event — say, your daughter's wedding — wear rubber gloves while working with mulberries. My husband recalls, while vacationing on the farm with his grandparents, rubbing his entire body with mulberries. When he went to the house to surprise them with his artistry, his grandmother was horrified. Mulberries do stain, but not nearly as badly as I had remembered. After a day or two, the purple on my hands disappeared and our stained dish towels bleached clean.
---
Mulberry Streusel Coffee Cake
Filling:
3 1/2 cups mulberries
1 cup water
2 tablespoons lemon juice
1 1/4 cups sugar
1/3 cup cornstarch
Batter:
3 cups all-purpose flour
1 cup sugar
1 teaspoon baking powder
1 teaspoon baking soda
1 cup cold butter
2 eggs, lightly beaten
1 cup (8 oz.) sour cream
1 teaspoon vanilla
Topping:
1/2 cup all-purpose flour
1/2 cup sugar
1/4 cup butter
1/2 cup pecans, chopped
Glaze:
1/2 cup confectioner's sugar
2 teaspoons milk
1/2 teaspoon vanilla
Filling: in a large saucepan, cook mulberries and water over medium heat for 5 minutes. Add lemon juice. Combine sugar and cornstarch, and stir into fruit mixture. Bring to a boil. Cook and stir for 2 minutes or until thickened. Cool.
Batter: In a large bowl, combine flour, sugar, baking powder and soda. Cut in butter until mixture resembles coarse crumbs. Stir in eggs, sour cream and vanilla. Batter will be stiff.
Spread half of the batter into a greased 13x9x2 baking dish. Spread mulberry filling over batter. Spoon remaining batter over filling.
Combine the topping ingredients and sprinkle over the top. Bake at 350 degrees for 40-45 minutes or until golden brown. When cool, drizzle glaze over the top. Makes 12-16 servings.


Editor's Note: This story is revised from the July/August 2007 issue of South Dakota Magazine. To order a copy or to subscribe, call 800-456-5117.