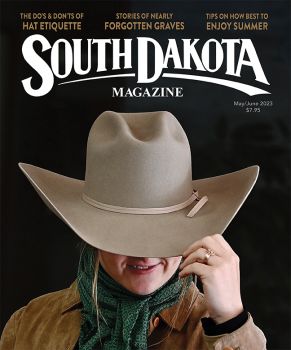 Subscriptions to South Dakota Magazine make great gifts!
Subscribe today — 1 year (6 issues) is just $29!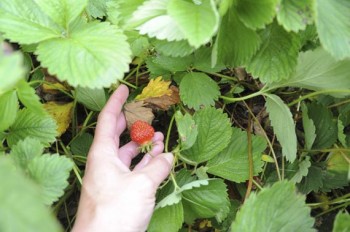 Strawberry Crisp
By Katie Hunhoff
We have a small strawberry patch behind the South Dakota Magazine office and it seems it is at its peak right now.
Have you ever had a taste-test between a store-bought and home-grown strawberry? The difference is almost unbelievable. The store-bought is almost devoid of taste when compared to a freshly picked berry. I'd recommend making this crisp with strawberries from a farmer's market, or if you are lucky, from your backyard.
This recipe is a mix-and-match of various recipes I found on the web. Enjoy!
Strawberry Crisp
3 cups strawberries, tops off and halved
1 tablespoon lemon juice
2 tablespoons sugar
1 cup dry oats
3/4 cup whole wheat flour
1 stick butter (cut into pieces)
3/4 cup brown sugar
1/4 teaspoon salt
1/2 teaspoon cinamon
1/2 cup pecans
Directions:
1. Mix strawberries with lemon juice and sugar. Set aside.
2. Butter an 8x8 baking dish. Heat oven to 325 degrees
3. Make topping: mixflour, brown sugar, cinnamon and salt. Add butter pieces and use fingers to mix.
4. Place strawberry mixture in prepared 8x8 dish and cover with topping. Bake for 45 - 50 minutes until topping is crispy and strawberries are bubbling.