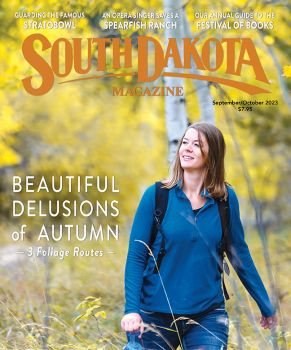 Subscriptions to South Dakota Magazine make great gifts!
Subscribe today — 1 year (6 issues) is just $29!

Winter Blues
Jan 7, 2016
By Fran Hill
Christmas at the Capitol in Pierre includes nearly 100 trees decorated by volunteers from communities, schools, churches, nonprofit organizations and state government offices. The display runs annually from Thanksgiving through Christmas. With my penchant for sparkly lights, my husband and I decided to make the trek to Pierre to check things out last month, and it was well worth it.
Upon first entering the capitol building, the fragrance of evergreen trees welcomed us. The enchanting sounds of carolers in the rotunda floated through the air and drew us into a magical twinkling forest. We were mesmerized as we wandered the hallways and climbed the wide marble staircase to capture the view from the balconies. My heart was happy in a way that only occurs when I am surrounded by the sparkle and magic of the holiday season.
And then, it happened. Hubs noticed his first blue tile in the impressive terrazzo floor. We knew the history. Italian artisans, 66 in all, came to South Dakota to lay the beautiful mosaic tile. Unable to sign this work, they were each given a single blue tile to place at their own discretion as they performed their artistry. Only 55 have ever been located, and every child that visits the capitol participates in a self-imposed scavenger hunt to find them.
My husband and I became children once more and while still in awe of the fantastically decorated Christmas trees, each kept one eye to the ground in search of the elusive blue stones. We squealed and giggled with each find, and the sense of community was strong as another family joined us by sharing tips of the locations of tiles they had spotted. Those little blue tiles added another dimension of wonder to the already fabulous Christmas tree display.
Back home with the holidays dwindling, I didn't let my search for blue end. With blueberries in the fridge, I pulled a tried and true recipe from my archives. Broiled Blueberries is an adaptive dish that makes an excellent dessert. Depending on the type of yogurt used, it is a pretty low-cal way to end a meal without sacrificing a single ounce of sweet blueberry satisfaction. However, the recipe was first introduced to me as a breakfast, and I have been broiling my blueberries while my whole grain bread is toasting for many years. The brown sugar topping caramelizes over the smooth, creamy yogurt, and the berries swell with sweetness under the intense heat. It's almost like Crème Brule over luscious, juicy berries. Broiled Blueberries is a little blue delight, just like the stones in the terrazzo tile floor of the state capitol.
---
Broiled Blueberries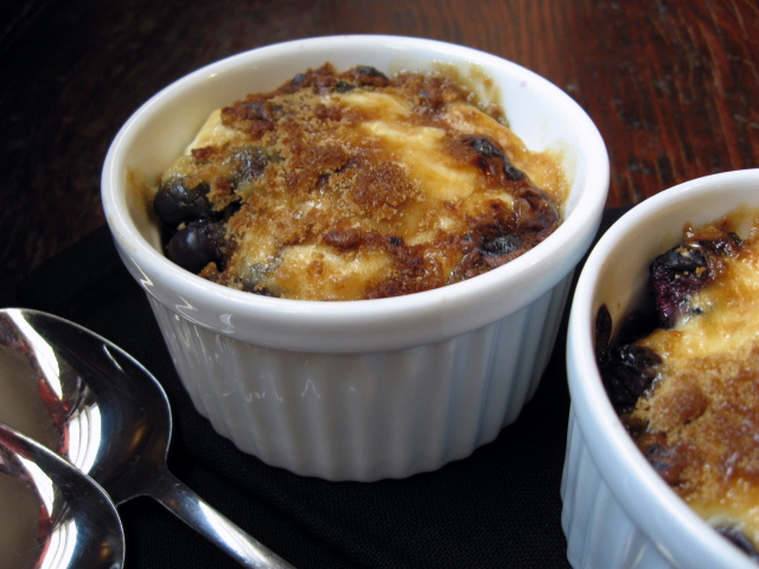 Broiled blueberries can be a sweet dessert or adapted for breakfast.
4 cups blueberries
2 cups Greek Gods Honey Yogurt (or other vanilla yogurt)
1-2 cups packed brown sugar

Preheat broiler.
Divide the berries between 4 ovenproof ramekins.
Spoon 1/2 cup of yogurt over berries in each ramekin.
Top with brown sugar. (Use enough to completely cover the yogurt and berries.)
Broil 3-4 minutes, until the sugar is melted and caramelized. (Watch carefully, as the sugar can burn.)
Serve immediately (although, leftovers can be refrigerated and are still quite tasty when cold).
Fran Hill has been blogging about food at On My Plate since October of 2006. She, her husband and their two dogs ranch near Colome.