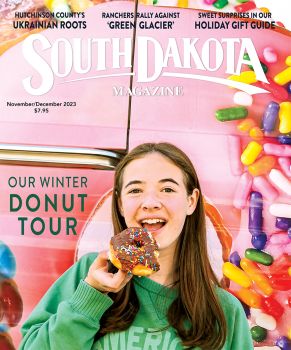 Subscriptions to South Dakota Magazine make great gifts!
Subscribe today — 1 year (6 issues) is just $29!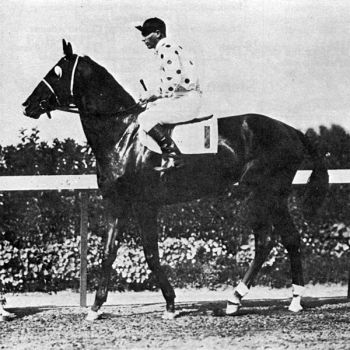 South Dakota and the Triple Crown
May 20, 2014
By John Andrews
Last spring I spent a day at the Brown County Fairgrounds learning the ins and outs of horse racing. Perhaps because of that experience, I find myself more attuned to the story currently unfolding about the thoroughbred California Chrome and his quest to win horse racing's Triple Crown.
Three races comprise the Triple Crown: the Kentucky Derby, the Preakness Stakes and the Belmont Stakes. California Chrome won the Derby by 1 ¾ lengths earlier this month and prevailed at the Preakness on Saturday. If he wins at Belmont on June 7, California Chrome will be the first horse to take the Triple Crown since Affirmed in 1978.
The idea of the Triple Crown originated in England in 1853, when a horse named Western Australian won three legendary races. The first horse to win all three Triple Crown races in America was Sir Barton in 1919. But the term "Triple Crown" did not become widely used in the United States until a South Dakotan accomplished the feat in 1930.
Earl Sande was born in Groton in 1898. He spent his first 9 years growing up on a farm near town, and that's where his love for horses began. One of Sande's friends in Groton was Leon Cassels. "My dad (Leon) and Earl would go out there to my grandfather Herb's farm and ride horses," Gene Cassels said in the Aberdeen American News in 2008. "Earl said that is where he learned about horses and got his start. Earl said he was always grateful for those experiences and the times he spent with my dad."
The family moved to Idaho in 1907, and Sande bought his first pony in 1910 for $15, four ducks and a bicycle frame. He began his racing career in Arizona. As an 18-year-old, he ran 23 races in one day at Springerville, Ariz. During his first year, he started 707 races and won 158. That caught the attention of the horseracing world, and Sande's ascent began.
The 1920s were the Golden Age of American Sports, and Earl Sande was to horse racing what Babe Ruth was to baseball, Red Grange was to football and Jack Dempsey was to boxing. Even Americans who knew little about horseracing were familiar with Sande's name. He was the leading money-winning jockey in 1921, 1923 and 1927. He won the Belmont Stakes five times, the Kentucky Derby three times and the Preakness Stakes once. But 1930 was Sande's golden year.
In May he rode Gallant Fox to victory at the Preakness, holding off a late charge from Crack Brigade to win by three-quarters of a length. Two weeks later, on a muddy track in Louisville, Sande and Gallant Fox won the Kentucky Derby by two lengths. Three weeks later, the pair won handily at Belmont. Charles Hatton, a columnist for the Daily Racing Form, began using the term Triple Crown after Gallant Fox's spectacular 1930 run. Perhaps Sande's popularity, combined with the nationwide interest in horseracing, led to the term becoming widely adopted.
In Sande's career as a jockey, he rode 3,673 times and finished first 968 times. He earned $2,998,065. After his retirement he became one of the country's leading horse trainers. He died in Oregon in 1968.
I'll be watching the Belmont Stakes on June 7. And I'll be thinking of Earl Sande as I watch California Chrome try to make history.