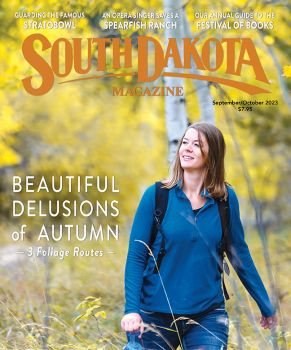 Subscriptions to South Dakota Magazine make great gifts!
Subscribe today — 1 year (6 issues) is just $29!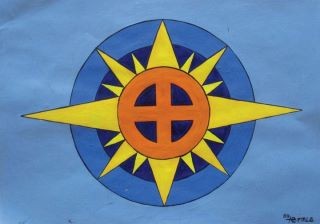 A New Flag for South Dakota
Jan 24, 2012
South Dakota needs a state flag, and this week more than 80 of the 105 lawmakers introduced a bill to adopt a design. (I should make a concession that may surprise some South Dakota Magazine readers — I work "nights" as a state legislator from Yankton, and I am one of the sponsors.)
You're thinking we already have a flag, and in a sense we do. For years, our Great Seal has doubled as a flag symbol. We all like the seal — which shows a riverboat, a farmer and wheat fields — but a seal is not a flag.
The United States of America has a seal, but we also love the Stars and Stripes, and Old Glory unifies us as a people. Texans have a Great Seal, but they proudly fly the Lone Star.
South Dakota had a real flag more than 100 years ago. A sunburst on a bright sky blue background was created in 1909. But somewhere along the line, an efficient bureaucrat decided to fill the backside of the flag with the seal. Then another bureaucrat decided it was too cumbersome to print the seal on one side and the flag on the other, so he dropped the flag symbol.
Way back when South Dakota celebrated the state centennial in 1989, artist Dick Termes of Spearfish began to contemplate the need for a flag for South Dakota. He did some design work, but he also created the famous Termesphere and since then he has become firmly established as one of the greatest artists in South Dakota history.
Termespheres now hang in many of our state and country's finest galleries and buildings, and Dick Termes has achieved international acclaim.
But Dick continues to live and paint from a small, humble studio outside Spearfish and he would like nothing more than to give South Dakota a flag that could help promote pride in our state. He wants nothing in return other than that.
I'm proud to work with other legislators to try to adopt his design as our flag. Some people ask why we don't open it up to competition. If we did so, we would receive hundreds of designs and the 105 legislators would each have a favorite — many times their favorite would be the design by their brother or neighbor. But few of the other artists would have Dick Termes' skill, and none of them will have spent 20 years thinking about what a great flag should be.
The proposed flag gives a nod to the 1909 flag, featuring an abstract sunburst on the same sky blue background. It also features a medicine wheel, a cultural symbol of our oldest residents. The medicine wheel represents the four directions of the Earth and the great outdoors that we all love.
This won't be an easy sell, even though we have 80 co-sponsors. There are more opinions on flag designs than on merit pay and gas taxes.
We won't spend a lot of time on it. I'm sure some citizens complained when the U.S. Congress adopted Old Glory, but I'm glad they took the time. The budget, education reforms and economic development are our priorities and they will come first.
But we will find time to try to make a good decision on the proposed flag. I like it. I'm sure that many people won't. We all know the controversies that erupt when our favorite school changes mascots or our car companies come out with new designs. I still like the '57 Chevy.
So this may take some getting used to. If you like it, I hope you'll help by contacting your local legislator. If you don't like it, take another look … and another. It might grow on you.