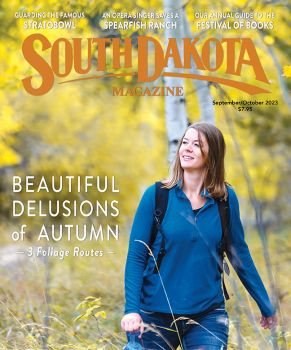 Subscriptions to South Dakota Magazine make great gifts!
Subscribe today — 1 year (6 issues) is just $29!

State-U, Version 2: No Frozen Critters
Sep 14, 2011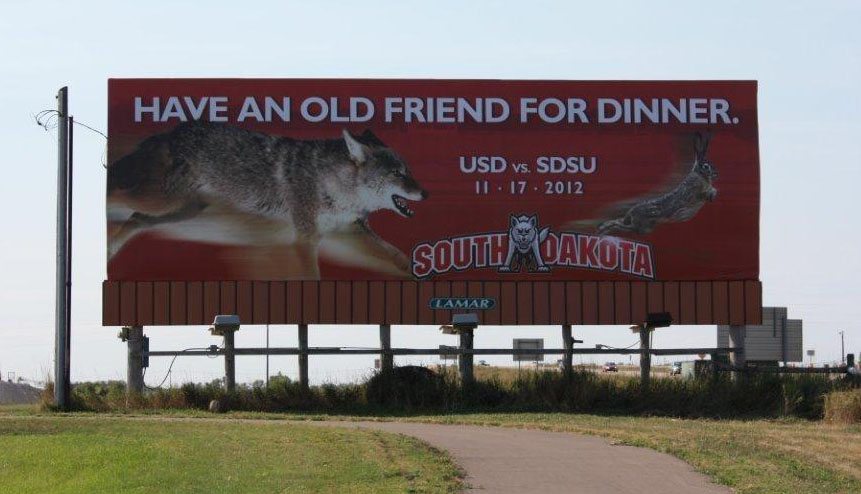 The newest addition to the Brookings landscape is a friendly jab from Vermillion.
Are you ready to renew the athletic rivalry between the state's two largest universities? It appears one school is.
A friend recently sent me a photo that I think is the first salvo in the soon-to-be-resurrected SDSU-USD rivalry. A huge red billboard recently went up along Interstate 29 near Daktronics in Brookings. It shows a coyote streaking after a rabbit, and the tagline reads, "Have an old friend for dinner." It's creative. It's boldly placed in the heart of Jackrabbit Country. It's also a sign that the rivalry many of us grew up with will be renewed with zest after nine years of dormancy.
SDSU and USD were spirited in-state rivals since 1889, when the football teams first played to a 6-6 tie. Then in 2003, SDSU announced plans to reclassify from the NCAA's Division II to Division I, ending contests between the schools. USD made the move a few years later, and now both schools are again in the same athletic conferences, ensuring games every year. The rivalry resumes this winter, when USD visits Frost Arena on Jan. 12 for a men's basketball game. Football follows next fall, with a game in Brookings on Nov. 17, 2012, the date advertised on the billboard.
I was a student at SDSU from 1998 to 2002. There was excitement all day when the USD basketball team was scheduled to play in Frost Arena. We'd arrive a full hour before the doors opened. When staff finally let us in, we'd sprint through the halls, gunning for the front row, half court seats. Once the game began, we'd keep one eye on the court and another scanning both student sections, trying to find the student who would inevitably toss a frozen coyote or jackrabbit onto the court.
Seemingly every alumnus has a frozen animal story. There's a chapter full of them in Amy Dunkle's The College on the Hill. Harry Forsyth, SDSU's longtime athletic director, remembered finding a frozen coyote hanging from the rafters of the Barn, the campus field house where basketball games were once played. "They were going to lower it and play 'Taps' after the game," he recalled. "We put a couple of big football tackles on the pulley to make sure nothing happened."
The most serious incident happened during a game at Frost on Feb. 7, 1976, when an overzealous SDSU fan threw a 55-pound frozen coyote onto the court. It struck SDSU cheerleader Margie Fiedler in the head. Fiedler suffered a concussion, was hospitalized in Minneapolis and missed three weeks of school. She later said doctors told her the impact had shifted her brain inside her skull.
Hopefully nothing similar happens when the schools meet again. It's simply time to move beyond chucking frozen wildlife at each other. We should embrace this renewed rivalry with civility and sportsmanship. And somebody at SDSU should get to work on a billboard near Exit 26.