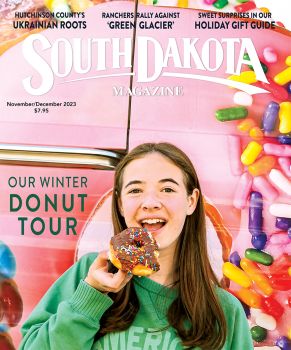 Subscriptions to South Dakota Magazine make great gifts!
Subscribe today — 1 year (6 issues) is just $29!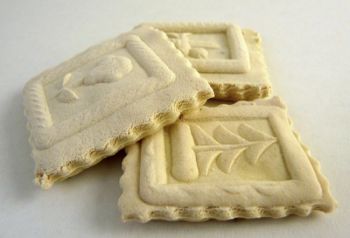 Picture-Perfect Cookies
Dec 20, 2012
Some of our most cherished holiday traditions date back to pre-Christian times. After reading in our December e-newsletter about julenek, an old Norwegian custom still practiced at Trygve Trooien's farm near Astoria, Leah Benson of Brookings told us about her family's favorite Christmas tradition — baking and eating springerle.
Benson has researched this ancient German Christmas cookie and teaches classes about it at medieval reenactment fairs. The origins of springerle, which means "little knight" or "jumping horse," go back centuries to a region of Europe once known as Swabia, now part of southwestern Germany. "The legend is that back then, the peasants were so poor that they could not afford to give gifts. To celebrate the winter solstice they would carve the gift they wanted to give into a piece of dough, let it dry, and then bake it and give it to their loved one. Most of the carvings were things of nature, animals, plants, etc. because they worshipped Mother Earth at that time," Benson said. "The dough in ancient times used hartshorn for leavening, which actually is a white powder that comes from the inside of a deer's antler. Today of course we use baking powder."
Benson learned about these cookies from her grandmother. "She always made these cookies with a special rolling pin that was handed down through the generations. I started collecting these rolling pins when I was forty." Her grandmother's recipe creates a very thick, mixer-challenging dough. Rolling the dough with a springerle rolling pin or pressing it with a carved mold creates pictures on the cookies — some more intricate than others. "Most of the modern rolling pins have basic simple nature designs, although I do have one very expensive one with the life of Christ carved into its 24 panels."
The unbaked cookies must dry for 24 hours. This helps preserve the pictures through the baking process. The cookies bake at a low temperature for 45 minutes, resulting in a hard, pale-colored treat perfect for dunking in coffee. Many families make these at Thanksgiving and save them until Christmas. This allows the flavor to develop. Benson's family eats them right away because they prefer a softer texture.
Springerle-Making Tips
Place a kitchen towel over the back of the mixer so you don't end up with flour and powdered sugar all over the kitchen.

The size of the eggs will determine how much flour you need to use.

If you don't have a springerle pin, roll the dough to about ¼ thick and cut in 2" by 1 1/2" rectangles, then dry and bake as directed.

The traditional cookie is very hard — good for dunking or as teething biscuits. Rolling them thicker or baking them less will result in a softer cookie. But beware of rolling them too thick — it results in cookies that are "humped up and cracked and kind of ugly," according to Benson.
---
Springerle
4 medium eggs, separated
1 lb. powdered sugar
3 cups flour with 1/4 teaspoon baking powder added
1/8 teaspoon anise oil extract, or flavoring of your choice
Using an electric mixer, beat egg whites in a large bowl until very stiff peaks form, as one would for meringue. In a separate bowl, beat egg yolks about five minutes, until light and lemon colored. Add the beaten yolks to the egg whites and whip for about three minutes. Sift powdered sugar gradually into egg mixture, add anise oil, then mix flour and baking powder in slowly, until the dough is very stiff, smooth and velvety to the touch. You may need to remove the dough from the mixer and knead the last of the flour in by hand.
Divide the dough into 3 or 4 pieces. On a well-floured surface, roll each piece out about 3/8 inch thick using a regular rolling pin. Then, using a springerle pin, roll across the dough one last time to create imprints. Cut the cookies apart with a sharp knife. With a thin metal spatula, move the cookies onto ungreased cookie sheets, placing them close together but not touching. Cover cookies with a light kitchen towel. Allow them to dry for 12 hours, then flip over to let the underside dry for another 12 hours.
Flip cookies right side up and bake at 250 degrees for about 45 minutes. They may turn tan on the bottom, but should not brown. Store cookies for several weeks to bring out the anise flavor or enjoy right away.