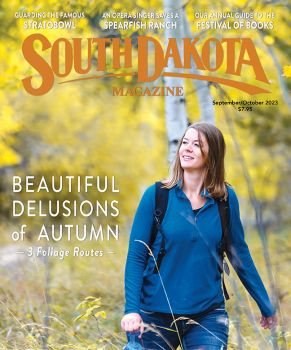 Subscriptions to South Dakota Magazine make great gifts!
Subscribe today — 1 year (6 issues) is just $29!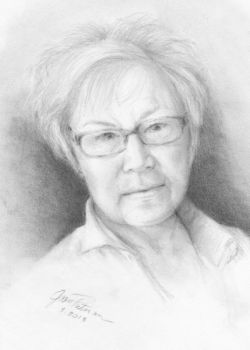 All of Raymond
Oct 8, 2013
By Laura Andrews


Like many wives, Joan Putman liked to send her husband, David, off with a list when he went to the grocery store in Raymond for morning coffee. But her list was a little different than most. "I'm running out of faces," she would tell him. "Honey, I need these."
It's not as ghoulish as it sounds. David Putman willingly took the lists and his camera to town to take photos of Raymond's residents. Joan used the shots as references for All of Raymond, 63 8" x 10" graphite portraits documenting everyone in her little Clark County town.
Locals willingly cooperated with Putman's unorthodox request. Those who weren't ready for a grocery store photo shoot provided Joan with a snapshot. "Every one of them was fine with that. I was really surprised, to be honest with you. Only one camera-shy person in the community," Joan said.
Joan Putman's love of art dates back to her high school days in Colorado. "I truly have to give credit to an art teacher in high school. He took three of us gals and told us that he was giving us assignments just like they would in college and grade us on a college level. It sure inspired us," she said.
The Putmans settled in Raymond when a property came up for sale near the farm where David's grandparents homesteaded. Joan got a job with Sioux Valley managing their cardiac care unit, but a work trip to La Crosse inspired her artistic introduction to Clark County. In Wisconsin, she spotted a building with board-covered windows decorated with paintings of men and women were peering out at the street. Raymond's American Legion Hall was similarly boarded up. "When I came up here and saw all of this great plywood stuck up to these windows I thought, 'Here's an opportunity,'" Joan said.
After getting permission from the American Legion, Joan recruited other locals to assist. The American Legion donated new boards and others contributed paint. "So that kind of got things started," Joan said. "Little did I know…"
A series of other projects followed. Clark requested a mural of the Little Fellow, a local boy who had a special friendship with a railroad conductor. Desnoyers Hardware sports a 40 ft. long handyman that is Joan's handiwork. She also created a portrait of local physician Glen Ullyot for the community building in Clark that bears his name. The privacy fence at Bryant Parkview Nursing Home's memory care unit is decorated with what Putman calls her "Harvey Dunn landscape." "When the patients look out, they can see the barn and rolling hills — something to make them feel a little more comfortable," Joan said.
Four and a half years ago, David Putman provided his wife with the initial inspiration for All of Raymond. "I do better when I have goals set for myself, and I was really needing some kind of an art project to do," Joan said. "My husband was the one who said, 'Why don't you just draw all the people in Raymond?' I mulled it over and thought, 'Why not?'" Family illnesses and other distractions delayed the project's completion, but she got serious about finishing it last winter, along with a booklet that contains copies of all 63 portraits and photos of Raymond in 1910 and 2013.
"I really think this project is remarkable. I don't think it's ever been done," says Greg Furness, Clark historian and funeral director. He and two other local authors, Jane Green and Tracy Nichols, will join Putman when her sketches are displayed at the Clark County Mercantile Store for a special two-day showing on October 12 and 13.
When the weekend is over, All of Raymond will be dispersed. Joan plans to sell the portraits to Raymond residents or their families (five of the portrait subjects have died since the project's inception) at an extremely reduced cost to cover some of her expenses. Then Joan will move on to her next projects — competing in the South Dakota Health Care Association MasterWorks Art Show, preparing for the Watertown Art Show in 2014, and perhaps doing something a bit more personal. "I'm working on a couple large paintings just for me right now," Joan said.
See All of Raymond at the Clark County Mercantile Store, located at 121 1st Ave. E in Clark, on October 12 from 1-5 pm and October 13 from 1-4 pm.