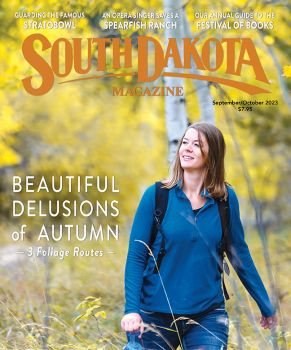 Subscriptions to South Dakota Magazine make great gifts!
Subscribe today — 1 year (6 issues) is just $29!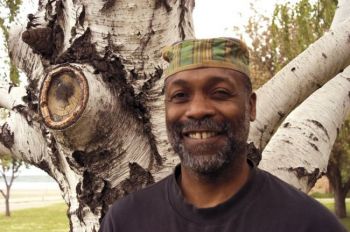 Our Vinegar Town
Jun 6, 2012
Roslyn was best known as the birthplace of Myron Floren until Lawrence Diggs moved to town and opened the International Vinegar Museum. Now the tiny town of 183 is visited by people from across the country who want to learn more about vinegar and see a slice of small town life.
Diggs was living in San Francisco when he purchased some balsamic vinegar and wanted to find out how to make his own. "I started tracking down information and borrowing books from around the world," Diggs told us when we interviewed him for South Dakota Magazine. "The more I found out, the more interested I got." He not only found out how vinegar was made, but he uncovered the sociological, historical and economic aspects of the versatile liquid.
He relocated to Roslyn in 1989. Townspeople opened their handsome old brick town hall to Diggs when he decided to pursue opening a vinegar museum. Since then, Diggs has also published books and traveled across the U.S. and overseas to teach others about vinegar.
Volunteers from a non-profit group called CARE (Community Advancement of Roslyn and Eden) took over museum operations in 2008. One of the museum highlights is vinegar tasting. A variety of flavors are available; several you wouldn't associate with vinegar, like tequila lime, strawberry champagne and raspberry. Museum volunteer Mary Wagner said some visitors buy vinegar by the case.
The museum is open from Memorial Day to Labor Day, Friday through Sunday. A $2 fee is charged, but "instant scholarships" are awarded for anyone who finds it a hardship. The museum also hosts the annual Vinegar Festival, to be held on June 16 in 2012. Call 605-486-0075 for more information.
---


Chicken Adobo
Editor's note: this recipe originally appeared in the July/August 1996 issue of South Dakota Magazine. To subscribe, call 800-456-5117.
This is a traditional dish of the Philippines, usually served with rice and, Diggs told us, the chicken's head. Diggs encourages cooks to add cinnamon or nutmeg to this stew and make your own call on the chicken head.
In a large pot, place the following ingredients:
1 chicken, cut into small pieces
1 cup vinegar
1 cup water
2 tablespoons soy sauce
1 bay leaf
5 cloves garlic, crushed
2 tablespoons salt
5 peppercorns
2 mild red peppers
Chop the peppers if you want a hotter, spicier stew. Otherwise, add them whole near the end of the cooking time for a milder flavor. Cook slowly, until chicken starts to come off bones and gravy begins forming. If the stew is too sour, add a little more water. Remove some of the oil if desired.