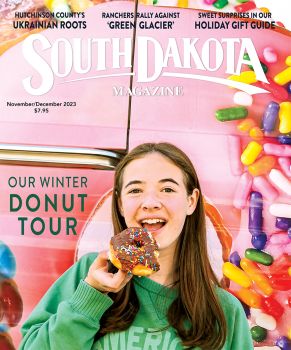 Subscriptions to South Dakota Magazine make great gifts!
Subscribe today — 1 year (6 issues) is just $29!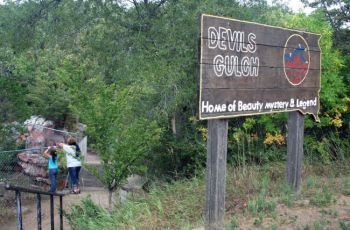 Saturday at Split Rock Creek
Aug 31, 2012
My husband Jeremy and I are trying to squeeze every last bit of fun out of this summer. I honestly can't remember the last weekend we just stayed home — and my messy house proves it. We had a free Saturday last weekend so we decided to check out Split Rock Creek, Palisades State Park and Devil's Gulch.
Our day trip started at Palisades State Park south of Garretson. Jeremy wanted to go for a run on one of the hiking trails along Split Rock Creek but some areas were a little too rocky for that. Big surprise, right? It's a destination known for its purple and pink quartzite formations. Some geologists speculate that an earthquake divided the rock into a canyon ages ago, thus the name Split Rock Creek. Within the quartzite are spots of rare pipestone, a rock used by native tribes to create sacred pipes, war clubs and other tools.
The hike along the softly burbling waters was lovely. A light drizzle was a welcome respite from the usual dry summer weather, though it did make rocky parts of the path slippery. The Palisades look to be a popular weekend destination for picnicking, kayaking and fishing. The other visitors we met didn't seem to mind the rain. There was even a wedding at one of the large picnic shelters. Personally, I'd love to while away a weekend at one of the campsites or adorable little cabins tucked between oak and ash trees along the water.
Once we finished exploring the Palisades, we made our way north to Devil's Gulch in Garretson. Crossing Devil's Gulch was on the "Summer 'Oughta Do' List for Kids" in our May/June 2011 issue. Jeremy and I are a couple of big kids so I knew we had to do it. Legend has it that outlaw Jesse James jumped Devil's Gulch on horseback in 1876. Today an iron footbridge spans the 20-foot gap in quartzite.
It's proven that James, his brother Frank, and a gang of six robbed the bank in Northfield, Minn., and fled west. No one is sure of their escape route, but one story says they split as they neared the state lines and Jesse followed Split Rock Creek. Supposedly a posse gained on him, he spurred his horse and leapt the chasm. Jeremy doesn't think it really happened, but after crossing the footbridge I think it's possible. And some say the creek was narrower back then and the gap has widened due to erosion. Why not take a Labor Day road trip and decide for yourself?