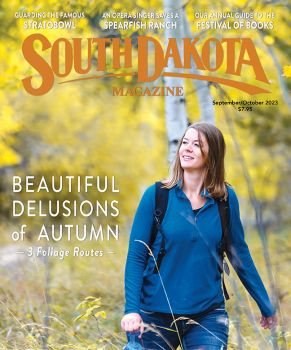 Subscriptions to South Dakota Magazine make great gifts!
Subscribe today — 1 year (6 issues) is just $29!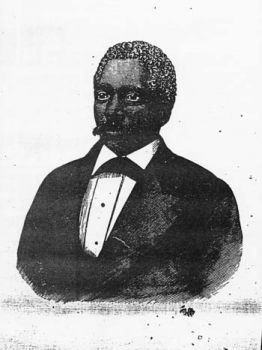 Freedom in Sully County
Feb 4, 2014
February is Black History Month. Every Tuesday this month, we'll introduce you to black pioneers and leaders who helped shape South Dakota. Today we feature the Norvel Blair family and the Sully County Colored Colony.
The Sully County Colored Colony became a haven for African-Americans seeking a road out of the racially oppressive Deep South in the late 1800s. Credit for the thriving rural neighborhood goes largely to Norvel Blair and his family.
Blair was born into slavery in Tennessee. Records are sketchy; some indicate he was born in 1825, others in 1814. Nevertheless, he was emancipated in 1863, and after the Civil War he reunited with his wife and their seven children on a farm in Illinois. The Blairs became prosperous, but in 1880 a mob burglarized their home and riddled it with bullets. Not long after, his attorney and a judge swindled him out of some property. He presented his case in a memoir called Book for the People! To Be Read by All Voters, Black and White, with Thrilling Events of the Life of Norvel Blair. He decided to move his family west after local officials barred him from a polling place while he tried to vote in an election.
Blair's sons Benjamin and Patrick arrived in Dakota Territory to scout land in 1882. They settled near the town of Fairbank, one of several towns to emerge in Sully County after its official opening for settlement in 1883. Norvel, his wife Mary, and their other children soon followed.
Fairbank thrived until it was bypassed as the county seat and the railroad chose Pierre for its Missouri River crossing. The town disappeared almost overnight, but the Blairs were unaffected. They had built a successful farming operation that didn't depend upon the strength of the town. Blair had brought a string of Morgan horses from his farm in Illinois, and he became a renowned breeder of racehorses. One horse named Johnny Bee was listed as the fastest horse in the state from 1907 to 1909. "Racing horses is a fine sport for any man as it teaches him how to be a good winner and a good loser," Blair said, "and if you can't be both you should never race horses."
The Blairs wanted to share their freedom with other African-Americans. In 1906, Ben Blair and others met in Yankton and created the Northwestern Homestead Movement, designed to relocate blacks from Southern states to farms in South Dakota and around the Upper Midwest. The Blair family even pledged 1,700 acres upon which to build an agricultural college.
The group considered colony locations in four counties but only Sully County's became successful, thanks to Norvel's daughter Betty. She worked for a real estate company in Iowa and is credited with selling much of the land. "Like most land agents she was pretty good at embellishing a tale," recalled Fern Barber, who taught rural school in the area in the 1950s. "She went back east to recruit buyers and even got them to believe there weren't any flies in South Dakota."
The Sully County Colored Colony had as many as 200 members. It was a bustling community for over 50 years, with locally prominent families like the McGruders (who bought a 1,200-acre ranch from Betty Blair in 1905), the Days and the Figgins. But hard times in the 1930s drove many to larger cities like Huron, Pierre and Minneapolis. By the 1950s only a handful of bachelors and a few members of the McGruder family still lived in the area. Today only scattered buildings and the Blairs, resting in their family cemetery, remain as a reminder of the refuge Sully County became for men and women seeking freedom.