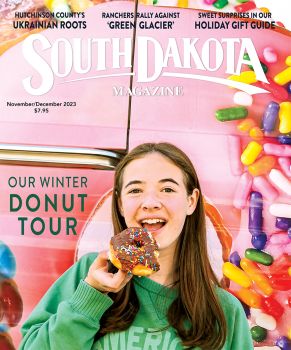 Subscriptions to South Dakota Magazine make great gifts!
Subscribe today — 1 year (6 issues) is just $29!

Brookings' Rhubarb King
By Katie Hunhoff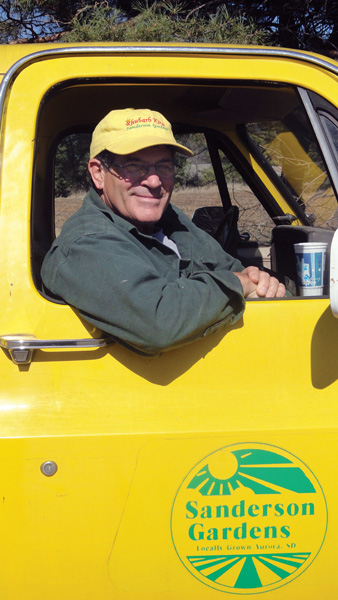 Jan Sanderson has been raising rhubarb in his gardens outside of Aurora for over 35 years.
"Everyone who has a rhubarb plant has a story about it," says Jan Sanderson, the Rhubarb King of Brookings County. He runs Sanderson Gardens, a fruit and vegetable oasis bordered by corn and soybean fields.
Sanderson is always searching for new rhubarb to transplant, and he takes a notebook with him to record the histories of each plant. "If you could follow their history far back enough," Sanderson says, "you would find all of our rhubarb came from England or the Nordic countries."
The English used the vegetable as a food about 200 years ago, calling it pie plant. But for thousands of years before that, Chinese would grind rhubarb root as medicine, most commonly as a laxative, diuretic, astringent and detoxifier. The name rhubarb comes from the ancient Romans who knew that the plant was used by barbarians near the Rha River. The word is a combination of the words rha (an ancient name for the Volga River in Russia) and the Greek word barbarus meaning barbarians.
Rhubarb is enjoying a renaissance, Sanderson says. He can hardly keep up with demand, especially from local wineries. Rhubarb's tart flavor and rich coloring make it a popular ingredient. Sanderson's rhubarb has both, thanks to years of hunting for the best varieties.
"Genetics are the secret to great rhubarb," he says. He likes plants with pretty color and few seed stalks. He clones his favorites by digging up the crown, the part of the rhubarb that is above the roots but below the ground. The crown contains the meristem, which is like the plant's stem cell system. He cuts the crown into several chunks and replants them. The new rhubarb will be an identical copy of the parent plant.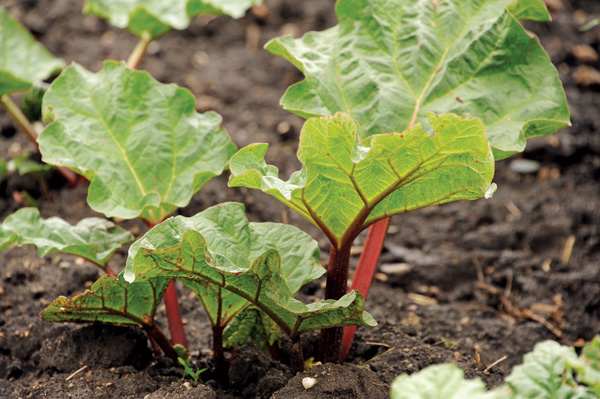 It seems nearly every yard has a patch of rhubarb, and all of it can be traced to England or the Nordic countries in Europe.
Sanderson began his rhubarb crop over 30 years ago with two rows of Valentine and Canada Red varieties from his parents' garden. He advertised in local papers that he would remove or trim plants for people, and he would search for plants he liked. Through the years he's developed a variety he calls Sanderson Red. At one time he had eight acres devoted to the tart vegetable.
Rhubarb is a strong plant, says Sanderson. Once it takes root, it keeps getting bigger and bigger. A deep root system helped plants survive the Great Depression, and the toxic leaves protect against chewing insects. Sanderson has even made an organic insecticide from the leaves.
Sanderson started growing produce in 1977 on his parents' farm 4 miles east of Brookings along Highway 14. The season kicks off each spring with the sprouting of rhubarb and strawberries. Next come sweet corn, raspberries and pumpkins. Barbarians are few and far between in Brookings County, but there are lots of people there who appreciate the summer bounty of Sanderson Gardens.
Editor's Note: This story is revised from the May/June 2012 issue of South Dakota Magazine. To order a copy or to subscribe, call (800) 456-5117.
---
Rhubarb Custard Pie
When Sanderson was a boy growing up near Sisseton, he and his seven siblings would eat rhubarb stalks raw, dipped in sugar. Although the raw rhubarb was a treat, Sanderson's all-time favorite recipe is from his ex-wife, Liz. He recommends eating it hot with vanilla ice cream.
Mix 1 1/2 cups sugar, 1/4 cup flour, (Liz uses whole wheat) 1/4 teaspoon nutmeg, and dash salt. Add 3 beaten eggs; beat smooth. Stir in 4 cups 1-inch slices rhubarb.
Prepare pastry for 9-inch lattice-top pie. Line 9-inch pie plate with pastry. Fill with rhubarb mixture. Adjust lattice top; seal. Bake at 375 degrees for 50 minutes.