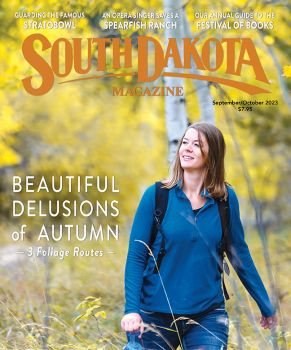 Subscriptions to South Dakota Magazine make great gifts!
Subscribe today — 1 year (6 issues) is just $29!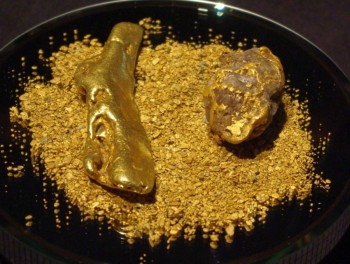 Together One Last Time
Jul 21, 2011
This weekend could be the last chance you'll ever have to see the two biggest pieces of gold ever found in the Black Hills side by side.
The Adams Museum and House in Deadwood plans to display Potato Creek Johnny's famous gold nugget alongside the Icebox Nugget, found just last summer, from 1 to 4 p.m., on Sunday.
The Adams Museum has housed Potato Creek Johnny's nugget for 77 years, though it rarely makes public appearances. Johnny Perrett, a petite Welsh immigrant with long hair and a scraggly beard, pulled the nugget shaped like a hockey stick from the tumbling waters of Potato Creek in Spearfish Canyon on May 27, 1929. At 4 3/4 inches long and weighing 7 3/4 troy ounces, it was declared the largest nugget ever found in the Hills. But skeptics claimed it was actually a melted mass of gold that Perrett stole from other miners.
Perrett decided to sell his nugget in 1934. He entertained many offers, but the winning $250 bid came from W.E. Adams, a longtime Deadwood businessman and politician who had recently built a new museum. Adams immediately placed the nugget in a museum vault and had two replicas made, one of which is on permanent display.
The original stayed hidden until 1995, when it was displayed in honor of the Adams Museum's 65th anniversary. "It was like the Shroud of Turin," says Mary Kopco, the museum's director. "I've never seen so many people come through the Adams Museum doors in such a short period of time. Since a replica has always been on display, a lot of people thought the actual nugget had disappeared entirely."
It has appeared publicly only a handful of times since, including a four-hour display in 2010 at the Journey Museum with the newly discovered Icebox Nugget, the largest undisputed gold nugget to come out of the Black Hills in 120 years. Prospectors Charlie Ward and Byron Janis pulled it from a cool, Black Hills stream on July 6, 2010. The exact location of the find was never revealed, but they say it was within 20 miles of Rapid City. Chris Johnson, owner of the Clock Shop in Rapid City, bought the 5.27 troy ounce nugget last summer.
After Sunday, there are no plans to reunite these two important pieces of Black Hills history, so Kopco expects a busy three hours. "It's so fun for people to see both of these nuggets, but of course I'm partial to Potato Creek Johnny's," Kopco says. "It's an incredible piece of history. I'm fortunate to have the opportunity to hold it in my gloved hands. It's the reason we go into the museum profession. Pieces like these have impacted our lives."