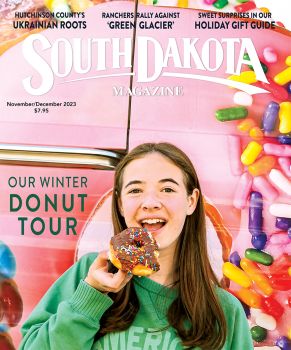 Subscriptions to South Dakota Magazine make great gifts!
Subscribe today — 1 year (6 issues) is just $29!

A 66 County Tour
Feb 17, 2016
By Katie Hunhoff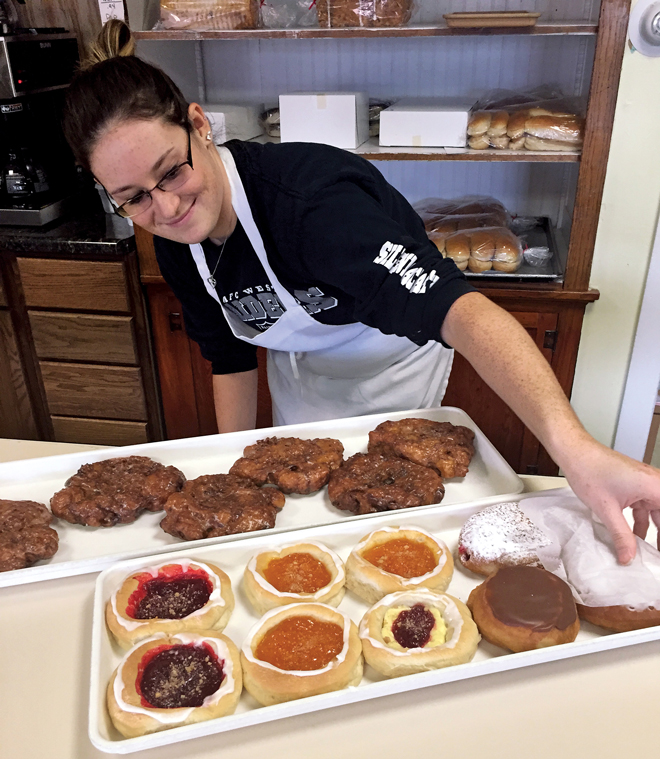 Veronica Sanders helps make kolaches in the morning at the Tyndall Bakery.
South Dakota Magazine writers explore our state's culture, history and people in about 50 articles a year, printed in six issues. We put care and dedication into each magazine, but there is a lot more of South Dakota to explore, so several years ago we launched a website, www.SouthDakotaMagazine.com. The content is completely different than what you find in your mailbox. We share ideas, stories and recipes and update every day — something you can't do in print.
One web series that we are particularly proud of is our "66 County Tour." Managing Editor John Andrews is doing a fun piece on each of our counties. Each article includes history, news, fun facts and interesting tidbits on the featured county. And each article could be used as a unique road trip guide.
For example, spend a day in Bon Homme County and you could see the miniature Eiffel Tower in Tyndall, the county seat, and visit the resting place of six unknown soldiers from Custer's Seventh Calvary at the Bon Homme Cemetery. We recommend stopping to taste a kolache — a traditional fruit-filled Czech dessert — at a bakery in Tabor or Tyndall, and ending your trip with a stop in Scotland to see a new 5-by-10-foot mural that remembers a local veteran, painted by world renowned airbrush artist Mickey Harris. The painting is in honor of Leon Woehl, who was aboard a B-17 that crashed in Germany in 1944. The mural shows the crash, and Nazi soldiers searching for Woehl and the other B-17 crew members who hid in the woods until their capture.
John has completed 18 of the 66 counties. All 18 are unique, and surprised us with little-known facts. Did you know that Sully County was once a refuge for African Americans fleeing from racial persecution? A man named Norvel Blair, a slave from Tennessee, created the Sully County Colored Colony in the 1880s. And did you know that a tiny town in Campbell County really wants you to move there? Herreid, pop. 403, offers $5,000 for families purchasing a home or building a new one in town.
Visit our County Tour to learn other fun tidbits, like which county has buried treasure from Mexico, which county is known for its lawnmower races (mowers are divided into three classes; stock, modified and outlaw) and which is the home of the first Lakota to serve in Congress.
Our website is also where we showcase some of our state's finest photographers, share great ethnic recipes and local events. Our print magazine is our baby, but we love staying in contact with our readers in between print editions. Stop by and say hello!