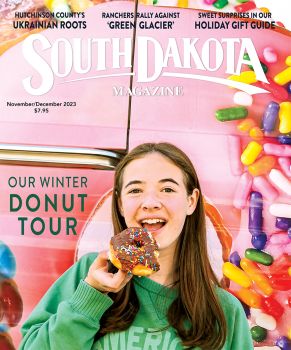 Subscriptions to South Dakota Magazine make great gifts!
Subscribe today — 1 year (6 issues) is just $29!

Like it? Or Not?
Jul 21, 2016
By Fran Hill
I like to think that I am pretty open-minded about food choices. I like stuff; you like stuff; we don't have to like the same things. It is all OK. Then, the reality of cooking for someone day in and day out hits.
There are things that my husband claims to not like. Some, he refuses to eat at all. Others, he eats on a regular basis — he just doesn't know it. No, I am not that evil; I just don't always feel like catering to every one of his whims. It isn't that I don't want to create meals centered on his preferences. It is awesome for those who sample my cooking to enjoy it. But I have my own likes and dislikes, and sometimes, I just want what I want.
That's the case with pesto. I love it. I hover over my basil plantings and eagerly await the time that they are full enough for a harvest. Fresh pesto is so fragrant, flavorful and just plain good. Hubs isn't sold. However, his point of reference is some nasty bottled stuff that I had once purchased many years ago while still learning and exploring food options. It was nasty. I don't blame him for not liking it, but basing all pesto on that first foul taste couldn't be more wrong.
Still, Hubs stands steadfast with his claim of not liking pesto … until I prepare something great with it. Pesto Fried Chicken is one of those fabulous dishes that comes together with just a few ingredients (after you prepare the pesto, which itself is very simple). Pesto is smeared on chicken breasts, thinly for just a hint of the garlic and herb flavor or thick to hold moisture into the chicken and pack a mouthwatering punch. Crushed corn flakes coat it all for a satisfying crunch that surpasses a typical breadcrumb crust. Even those who claim to not like pesto will clean their plate with Pesto Fried Chicken.
---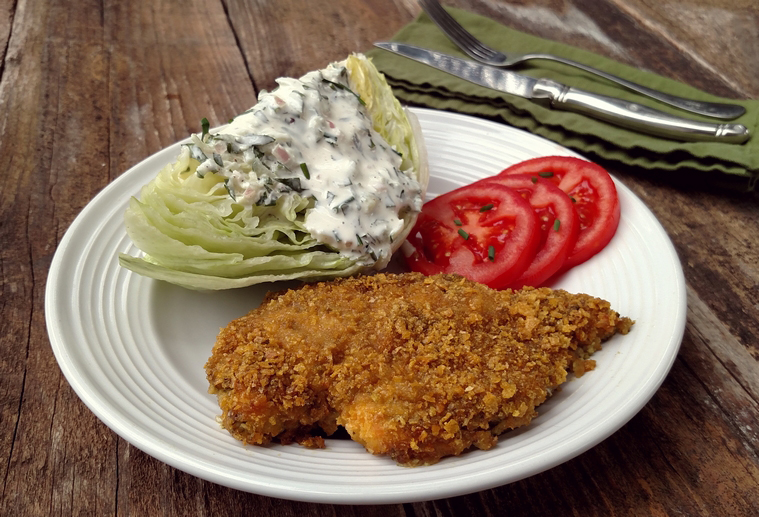 Basil grows heartily in South Dakota gardens and makes a lively pesto to pair with fried chicken.
Pesto Fried Chicken
Boneless, skinless chicken breasts
pesto sauce
1 cup corn flakes, crushed
Preheat oven to 375 degrees F. Brush pesto over chicken breast fillets, covering both sides. Coat with corn flake crumbs. Bake on a foil-lined baking sheet for 15-20 minutes, or until cooked through.
---
Fresh Basil Pesto
2 cups fresh basil
1 cup Italian parsley
1/2 cup grated Parmesan cheese (NEVER the green can for pesto … or ever, really)
1/2 cup pine nuts, toasted
4 cloves garlic, chopped
1/4 teaspoon kosher salt
1 tablespoon lemon juice (fresh is best)
1/2 cup olive oil
Combine all ingredients except olive oil in food processor. Blend while drizzling in the olive oil until mixture forms a smooth paste.
(Can store leftovers in fridge for 2-3 days. Toss them with pasta, spread on garlic toast and sandwiches or use as a dip with veggies.)
Fran Hill has been blogging about food at On My Plate since October of 2006. She, her husband and their three dogs ranch near Colome.