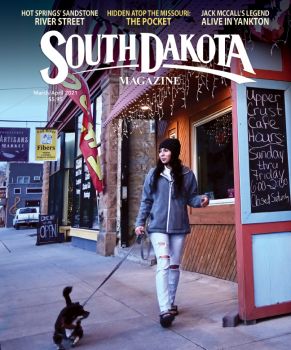 Subscriptions to South Dakota Magazine make great gifts!
Subscribe today — 1 year (6 issues) is just $25!

Outdoors


In his eighties, Emmett Bennett climbed the highest peaks in 12 states, biked across two states, and set new records in five Senior Olympic events. To unwind, he walked the borders of South Dakota.



This range of hills between Estelline and Clear Lake hides a colorful history.



Do wild horses have a civilization? The question arose when Bernie Hunhoff visited a herd of mustangs on the Cheyenne River Reservation.



Author Mike Randall explores a landscape full of spirits in Harding County.



Old-timers are comparing this year's disaster to 1952, when the river experienced a "spring rise" in April that caused a frenzy of rescue efforts somewhat like we've experienced this year.



Shaped by glaciers. Rounded by time. Preserved by the people of Marshall County.



Warm water and rare plants make Cascade Falls a unique place to take a dip.



Children are fewer and hired hands are hard to find, but a South Dakota rancher can always depend on a stockdog.



Wild plants like the prickly pear cactus have served many purposes.



History and unique plants highlight this Brookings County treasure.



Who knew picking chokecherries could be so dangerous?



Mountains and bicycling don't always go hand-in-hand. Many mountain ranges are too steep, too cold, too hot, too wild or too isolated for two-wheeling.