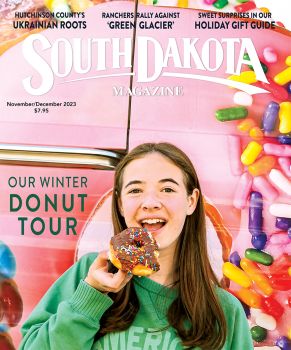 Subscriptions to South Dakota Magazine make great gifts!
Subscribe today — 1 year (6 issues) is just $29!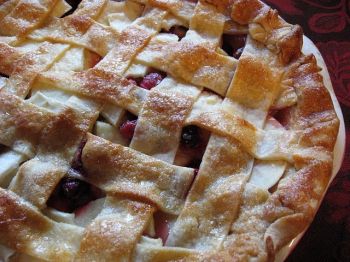 Counting Your Blessings
Nov 27, 2014
I am blessed. Fortunate. Favored. Lucky.
My fridge has milk, eggs and more types of cheeses than a fromager. The crisper drawers overflow with green veggies, herbs, and to be honest, probably a few unidentifiable moldy things. Boxes of cereal and crackers, canisters of pastas, flours and sugar, and a few stray candy bars from Halloween crowd the pantry. Bowls of fruit and a cookie jar jammed with granola bars line my counters. Rows of gleaming, jeweled home-canned jars of pasta sauce, jellies, jams, pickles, salsas and beans fill the shelves in my basement. The freezer is stuffed with cuts of beef, pork, fish, seafood, and of course, ice cream.
I have enough. More than enough. More than enough to survive a zombie apocalypse, or more likely, a couple of days huddled around the wood stove in a blizzard-induced power outage. A cast iron pot of stew would simmer welcomingly for all that sought shelter from the cold. Well, maybe not the zombies.
As I find my seat at the Thanksgiving table loaded with roasted turkey, sausage and sage dressing, creamy whipped potatoes, giblet gravy, roasted squash, sautéed green beans, tart cranberries, fluffy dinner rolls and the token salad, I know that I am among the blessed. Pondering which of at least three pies should be my dessert, I know that I am fortunate.
I have never been hungry. There has always been enough food in my cupboards, or at least only a grocery store trip away. Disaster, misfortune and illness have not spared me, but have never left me destitute, broken or achingly lost. Simply put, I have been favored.
And I am thankful.
---
Apple-Cranberry Pie
(adapted from Bake at 350)
pastry for a double-crust pie (use your favorite recipe or *gasp* Pillsbury)
4-6 Granny Smith apples (I actually used 4 Granny Smith and 2 Honeycrisp.)
2 cups fresh cranberries
zest of one orange (I forgot to buy oranges & used grapefruit zest...really good.)
1 egg white, beaten
1 1/4 cup sugar
3 tablespoons flour
1/4 teaspoon salt
2 tablespoons unsalted butter, cubed
Preheat oven to 425 degrees.
Line the bottom of a pie plate with the bottom crust.
Brush lightly with beaten egg white.
Peel, slice, and core the apples.
Toss apples with the cranberries.
Combine the sugar, flour, salt and citrus zest and toss with the fruit.
Pile the fruit mixture into the bottom crust.
Cover with top crust, crimp and vent as you wish. (I went for a lattice crust to show off the pretty red of the cranberries.)
Brush top crust with beaten egg and sprinkle with a dusting of sugar.
Bake for 20 minutes, then reduce heat to 350 degrees.
Bake for additional 40-50 minutes.
(I had to foil my crimped edges after about 30 minutes to keep from over-browning.)
Serve with generous scoops of vanilla ice cream.
Fran Hill has been blogging about food at On My Plate since October of 2006. She, her husband and their two dogs ranch near Colome.