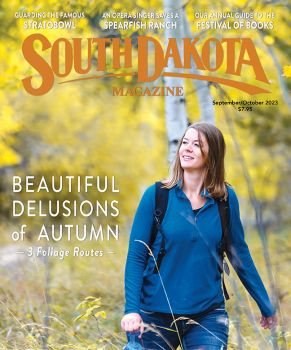 Subscriptions to South Dakota Magazine make great gifts!
Subscribe today — 1 year (6 issues) is just $29!

Food for Thought
Aug 31, 2017
By Fran Hill
I used to read a lot. Like, a book a week and often, a book a day. I don't know what happened to that bookworm. Did life get in the way? Did owning a fixer upper home that always needs some attention stop my trips to the bookstore? Did 4 million satellite channels block my books? Did Netflix stifle my reading brain? Has social media sucked out my book-loving soul? I may have dropped the habit, but thankfully, the urge hadn't died. I wasn't an empty melon head; I truly missed reading.
Back in January, I decided it was time to engage my mind with more of the written word. While on vacation, I relaxed with book after book and spent many nights frantically reading through the last pages of a novel or memoir that held a grip on me. It felt good to once again activate that part of my brain that processes words into images and thoughts and emotions. Reading engaged my melon.
I set my intentions to read at least 13 books this year. I know that is far from my former pace, but to be realistic, life IS happening and Netflix does still have a hold on me. However, as of this week, I have far exceeded that measly goal and do feel more balanced for putting reading back as a priority. Stretching my melon does feel good.
My brain isn't the only melon I have been working to improve this summer. I love a good cantaloupe, and here in central South Dakota, we are so fortunate to be spoiled with Forestburg melons. A good, ripe, sweet melon really needs nothing more than to be sliced, but occasionally, I like to step things up a little.
Adding lime vinaigrette, salty prosciutto and creamy, fresh mozzarella makes this Melon and Prosciutto Salad as well rounded as my book devouring brain. The combination of flavors and textures works in a way that is refreshing and satisfying. A good book and a serving of this melon salad on the patio would be a perfect afternoon for me.
---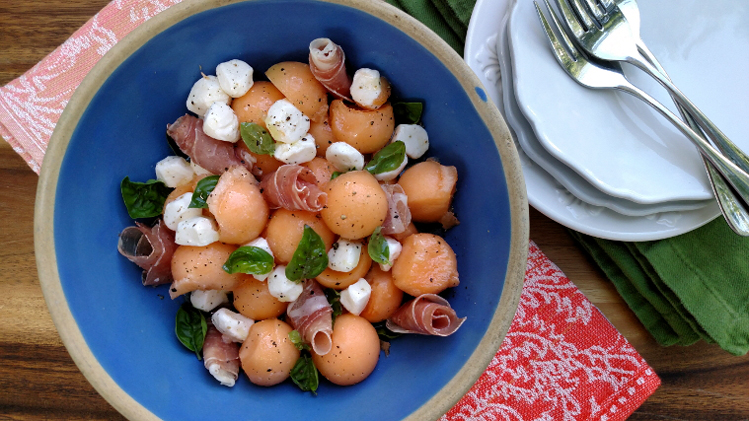 A good book and a salad with prosciutto and Forestburg melon makes for a delicious late summer treat.
Melon and Prosciutto Salad
(adapted from Food.com)
3 tablespoons fresh lime juice
2 tablespoons olive oil
1 tablespoon shallot, minced
1 tablespoon honey
1 pinch red pepper flakes
1/2 cantaloupe, cubed or portioned with a melon baller
7 ounces fresh mozzarella balls
2 tablespoons fresh basil, sliced into a chiffonade
2 ounces thinly sliced prosciutto
salt and pepper
Whisk together the lime juice, olive oil, shallot, honey and red pepper. Season with salt and pepper to taste.
Toss the melon, mozzarella and basil with the vinaigrette. Cut the prosciutto into strips and roll into rosettes; tuck the prosciutto rolls into the bowl of salad. Season with freshly ground pepper. Serve immediately at room temperature for best flavor. (Serves 4)
Fran Hill has been blogging about food at On My Plate since October of 2006. She, her husband and their three dogs ranch near Colome.