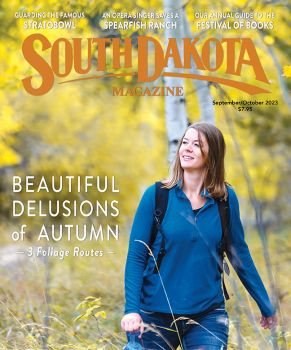 Subscriptions to South Dakota Magazine make great gifts!
Subscribe today — 1 year (6 issues) is just $29!

You Can Go Home Again
Jun 25, 2015
By Fran Hill
There is much ado across the state about enticing young people who have left South Dakota in search of better opportunities to come back. Little is said about the older generations who know they can always come home.
A week or so ago, I saw a car full of people parked in the street. Some of them were getting out and cautiously, but obviously, inspecting my property from a respectable distance, and a few were taking photos of the house. Moments later, a neighbor from up the street stopped to talk to the small group, and I realized the lady standing on my sidewalk was Donna, the daughter of the couple who used to own this house. She grew up in my 100-year-old stucco.
Donna is celebrating her 75th birthday this year. In observance of the milestone, her daughters took her on a road trip across South Dakota from her home in Spearfish. They hadn't planned to do more than drive by Donna's childhood home in Colome. Having noticed a glimpse of this old house with its pumpkin-lined front stoop in a recent television commercial for an area utility company, they knew we were taking care of the place and just wanted to check in.
I was nervous when I went outside to greet them. June has been a busy month, and my housekeeping has lacked. With three dogs and a puppy door that allows them to run in and out as they please, dog hair and grit has become my norm. My home is lived in, not a showplace. But the moment Donna hugged me, I knew that it probably wouldn't matter.
I started our tour in the backyard, where we have made the most changes. We chatted about her parents' vegetable garden and where they used to burn trash. I remembered finding several old bottles in that spot when fiber optic work was completed. We stood under the branches of the large old cottonwood that no longer holds the swing that she and her daughters played on, but is now home to a nesting squirrel family each year. Donna admired our patio and flowers, and when she asked if we were happy here, I unequivocally said yes. As with any older home this house needs a lot of work, but I wouldn't want to live anywhere else.
When we came inside, it was fun to listen to their family talk about the china hutch, the window seat and the bookshelves dividing the main living space of this Craftsman-style home. I learned that they also housed a piano in the nook by the front door and a vanity/dressing table in the small closet space off the bathroom. There were memories of baths in the claw foot tub, and giggles that the original wallpaper in the bedrooms we haven't yet renovated was back in style. Ironically, the one part of the house that I am so desperate to change was something that seemed to spark such joy for Donna. We still have the original kitchen. She caressed my dirty countertops, and I could see the memories behind her eyes as she told me how her father had built and installed them.
I think Donna is pleased with the upkeep (regardless of the dust and dog hair) and our improvements. This will always be her home. I'm glad she feels she can come back to it and I'm honored to have been a small part of her birthday celebration. Her visit was a reminder that I am just a caretaker of this house. Someday, my relatives may be standing in the front yard taking photos and reminiscing as a new owner worries needlessly about dirt on the floors and dust on the coffee table. I hope they, too, are welcomed and able to share memories.
Recipes are a bit like old houses. We are the caretakers who make changes and improvements as time goes by, but we keep them alive by sharing. I found this recipe for Homemade Barbeque Sauce in my copy of the Colome Centennial Cookbook compiled by the Catholic Daughters. Donna submitted it as her mother's recipe, and like her childhood home, I have made a few tweaks. The original was for basting and braising spareribs, but I brushed it on smoked baby back ribs. We loved its slightly sweet and tangy flavor. It was heartwarming to think about cooking a recipe in my kitchen that the previous family had made and enjoyed. Just like Donna, this sauce came home again.
---
Larsen's Homemade Barbeque Sauce
(credited to Peggy Larsen)
1/2 cup ketchup (I used my home-canned from garden tomatoes, but I bet Peggy's was Heinz.)
1/2 cup chili sauce
juice of one lemon
1/4 cup Worcestershire sauce
1/4 cup vinegar
1/2 cup brown sugar
1 teaspoon salt
1 teaspoon celery salt
1 teaspoon chili powder (I used Ancho Chili Powder for a slightly smoky flavor.)
1 teaspoon cumin (optional…this was my addition because we like that depth of flavor it adds)
1/2 cup chopped onion
Combine all ingredients in a small saucepan and simmer on low about 20 minutes, until the onion is tender and all flavors have melded.
Brush over smoked (or grilled) baby back ribs during the last bit of cooking. Be sure to offer extra sauce at the table for those who like their ribs saucy. Or, as the original recipe reads: "Cover spareribs with water and 1 onion and boil until tender, or if preferred, bake in the oven until tender. Pour sauce over meat and cook 15-20 minutes, basting often."
Fran Hill has been blogging about food at On My Plate since October of 2006. She, her husband and their two dogs ranch near Colome.