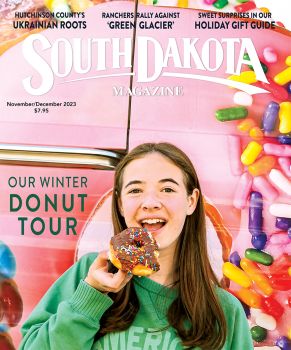 Subscriptions to South Dakota Magazine make great gifts!
Subscribe today — 1 year (6 issues) is just $29!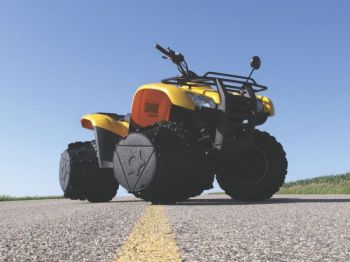 Mills on Wheels
Editor's Note: This story is revised from the March/April 2011 issue of South Dakota Magazine. To order a copy or to subscribe, call 800-456-5117.
It was the dead of winter and John Mills needed to cross his Brookings County farm, but he suspected his four-wheeler wouldn't make it through the snow. So he sat at his kitchen table and brainstormed ways to make the cross-country trip easier.
That's how J-Wheelz were born, though they might still be an idea if not for Mills' son, Jake. "He was the motivation that got us off the sketch pad and into the shop," Mills says.
J-Wheelz are a lightweight attachment that bolts onto the outside of each wheel. They add traction in mud and snow and 310 pounds of flotation (that's music to an ice fisherman's ears). And because of their unique upward angle, they don't hinder drivability on solid ground.
The Millses sketched and prototyped for nearly a year. When they had a solid design, they sought help from the South Dakota Enterprise Institute, which assisted with market research. "There was a hunger for a cheaper option to add capacity to the machines," says Andy Johnson, sales manager for Creative Solutions, which produces J-Wheelz. "Guys used to put dual wheels on, but those are heavy. Track systems can be $5,000. J-Wheelz are a nice, middle ground option. It's something guys can justify to their wives."
J-Wheelz are made from high impact plastic and marine-grade foam. Much of the manufacturing and assembly is done at the company's Brookings office.