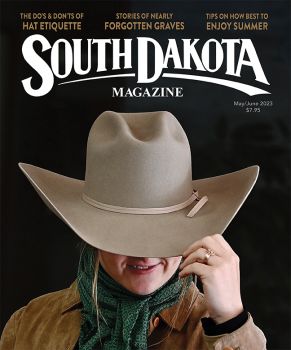 Subscriptions to South Dakota Magazine make great gifts!
Subscribe today — 1 year (6 issues) is just $29!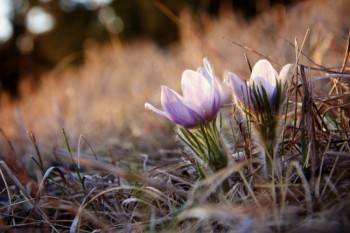 Cow Pies and Wildflowers
Mar 30, 2012
Time for a confession: I like flowers. Yeah that's right…wildflowers in particular. I realize this is not a manly thing to admit. I realize that other fellas my age would laugh or at least roll their eyes if I blurted this out while watching basketball together down at the local watering hole. Most guys my age are into sports, hunting, fishing, exercising, cars and/or big farm machinery. I have no problem with any of those things, but what can I say? Photography changes a person. I'll take a South Dakota wildflower scene at the golden hour with my camera at my side over any of those things in a heartbeat. Crazy? Probably.
This column is dedicated to my most recent obsession with the pasqueflower. Greg Latza's cover photo of the pasque on South Dakota Magazine's March/April 2010 issue started it. That issue came out at about the same time as I put my first macro lens on my camera. I knew the pasque was the state flower and I knew they were one of the earliest flowers to appear in early spring, but I had never seen one in the wild before. My macro and I now had a new mission.
Within a week, I found my first pasque patch. I took more close-up shots than I care to count. Not that many of them were that great, but the hunt and the newness was a rush. Last spring, it was more difficult for me to find pasques with the cool weather and late snow storms, but I found a nice patch near Lake Vermillion in McCook County and actually tried some new techniques to shoot the flower. I used my wide angle lens and shot later in the day to add the nice evening light and some of the surrounding scenery.
This year my flower fever set in early with the warm March weather and I was out checking known patches almost every evening. My goal was to photograph the flower in new and unique situations and in creative ways. I wanted to make images of the little beauty that you wouldn't find if you searched "pasque" on a Google image search. I was lucky to find a scene that a photographer often dreams about in Hanson County on March 20th. The sky promised to be a colorful sunset. About 10 minutes before the western horizon turned golden, I drove up to a wonderful stand of pasque on the south-facing hills of a creek leading to the James River. It was a cow pasture, so the grass had been grazed short. The flowers were dancing in the easy breeze of evening. I happily joined the party. To be honest, I hope no one saw me. At one point I was literally running between my two cameras on the hillside and firing bracketed images as the setting sun lit the clouds on fire. I had to sprawl out on the ground on my belly to make sure the framing was how I wanted it. I failed to bring a steady bag so I was improvising with rocks and even dried cow pies to straighten the cameras. Does that make me crazy? Probably.
Pasque season illustrates perfectly the reason I love photography. Number one; there is joy in the hunt of finding the right scene and subject to photograph. Number two; there is a natural high that is reached at the moment of the perfect light. This "in the moment" delight is what had me running up and down the hill and grabbing for cow pies like a lunatic. Number three; there is the fun of sharing the image after it is all said and done. Bringing a little of the beauty that I experienced to my friends and their friends makes my heart feel good. It is proof that my crazy obsession for capturing and sharing God's infinite creativity is worth it. To me, it is a crazy good feeling.
Christian Begeman grew up in Isabel and now lives in Sioux Falls. When he's not working at Midcontinent Communications he is often on the road photographing our prettiest spots around the state. Follow Begeman on his blog.