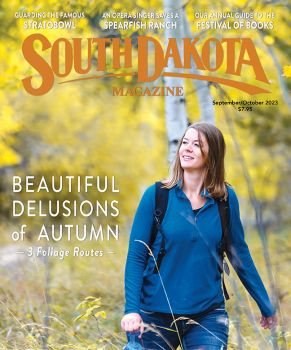 Subscriptions to South Dakota Magazine make great gifts!
Subscribe today — 1 year (6 issues) is just $29!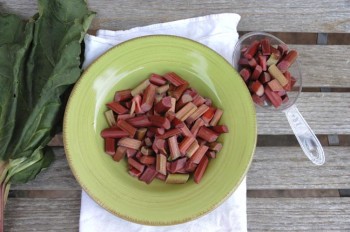 Prize-winning Rhuberry Pie
Editor's Note: This story is revised from the May/June 1989 issue of South Dakota Magazine. To subscribe, call 800-456-5117.
Somewhere between raising and butchering 2,500 chickens, keeping track of two little boys, gardening and helping her husband, Eugene, with the farm, Marilyn Moeller of Huron won the state rhubarb pie contest in 1988 with a rhubarb-berry blend.
"It was named by my husband. The pie had to have a rhubarb base, and I added raspberries." She laughed at the suggestion that there might be a secret to good pies. "It helps to raise your own rhubarb. I like the fresh garden rhubarb, it's sweeter and fresher than anything you can buy. And we like the strawberry rhubarb better than the green stuff."
Her state victory is proof that practice makes perfect. Marilyn started to make pies at age eight. "My mom (Aileen Luckhurst of Clark) was a 4-H leader and she taught me how. She held pie-making classes when we lived on the farm near Garden City. It was always my job to go get the rhubarb and cut it up."
She probably learned a few more tricks at Brookings, when she graduated with a home economics degree from South Dakota State University in 1979.
While some gardeners adhere to the philosophy that you should not harvest rhubarb in months starting with the letter "J," Marilyn said her family ate it all summer. "It probably depends partly on how hot the weather is, whether the plant gets enough water, and when you pick it. The more you pick, the more the plant will produce. Also, if you pick it small it will be sweeter."
---
Rhuberry Pie
Crust (makes two):
2 cups flour
1 tsp salt
4 tbsp water
3/4 cup shortening
Filling:
4 tbsp flour
3/4 cup sugar
1 egg, beaten
3 cups diced rhubarb
½ cup frozen raspberries in sauce
½ cup cran-raspberry sauce
Preheat oven to 425 degrees. To prepare crust, mix flour and salt together. Cut in shortening. Add water one tablespoon at a time until dough is of proper consistency. Divide in half, roll out and place one half in pie pan. Reserve other half for top crust.
For the filling, sift flour and sugar together. Add beaten egg, fruit and sauce, and stir together. Pour in pie pan. Cover with top crust and cut steam vents. Bake at 425 degrees for 10 minutes, reduce heat to 350 degrees and bake for another 35 minutes or until done.