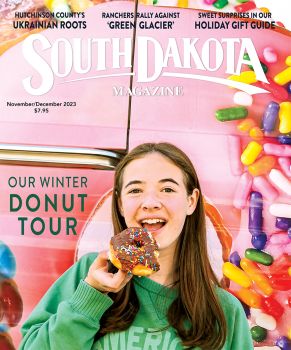 Subscriptions to South Dakota Magazine make great gifts!
Subscribe today — 1 year (6 issues) is just $29!

Tickling Your Taste Buds
Dec 8, 2016
By Fran Hill
When I first met my husband, he was sporting a beard. I didn't give that scratchy and sometimes tickly face mane any serious thought until one fateful night a few months later when he showed up on my doorstep freshly shaven. I was shocked. He didn't look like himself. I honestly missed the facial hair and told him in no uncertain terms that he should grow it back. Since that night, he has been sometimes scruffy, sometimes rugged, sometimes full and bushy, and often neatly trimmed, but always with a beard.
I am not totally in the anti-shaving camp, though. Shave a little chocolate on top of my dessert, some Parmesan on my pasta, and whip out the mandolin slicer and carefully shave some Brussels sprouts into a delicious winter salad.
Just like a barefaced husband, I hadn't considered eating Brussels sprouts uncooked. Unlike a barefaced husband, I really enjoy shaved raw Brussels sprouts. When sliced paper-thin (watch your fingers) and tossed with a bright, lemon dressing, these little green vegetables are tender and delicious. Crisp bacon and a dusting of Parmesan bring a salty element to the finished salad. It is the perfect fresh winter component to tickle your taste buds.
---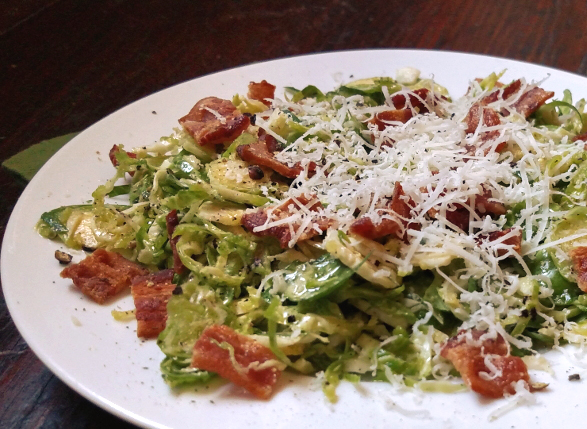 Raw Brussels sprouts make a light and delicious winter salad.
Shaved Brussels Sprouts Salad
(adapted from Cooking Light)
1 pound Brussels sprouts
3 slices bacon, fried crisply and chopped
3 tablespoons Parmesan cheese, finely grated
1 lemon
3 tablespoons olive oil
1/2 teaspoon kosher salt
1/2 teaspoon freshly ground black pepper
pinch of sugar
Using an adjustable blade slicer, thinly slice Brussels sprouts into a bowl. Add chopped bacon and grated cheese. Juice the lemon into the bowl (strain seeds). Drizzle with olive oil. Season with salt, pepper and sugar. Toss to combine. Salad can be made up to 20 minutes in advance. (Serves 6)
Fran Hill has been blogging about food at On My Plate since October of 2006. She, her husband and their three dogs ranch near Colome.