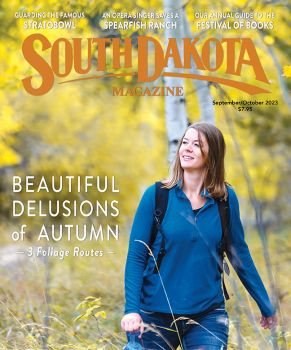 Subscriptions to South Dakota Magazine make great gifts!
Subscribe today — 1 year (6 issues) is just $29!

A Simple Fix
Aug 30, 2018
By Fran Hill
Like each and every one of you, my life runs in a million different directions. I have multiple commitments and many demands on my time and attention. It seems that this is just the way things are these days. Life is busy.
Also, like each and every one of you, we need to eat. Every day. Multiple times per day. I would like to say that I am organized and have a meal plan for each week and foolproof methods to get meals on the table. I don't.
Anyway, last Sunday morning, I was feeling pretty good about myself as I pulled ground beef from the freezer to grill burgers later that evening and noticed a package of brats with a faulty vacuum seal. Not wanting those seasoned sausages to suffer freezer burn and go to waste, I also plucked them out with the plan to serve brats on Monday night after a full day of subbing at school. Winner. Winner. I was not just one meal ahead in the plan, but two. Life was good.
The frozen packages rested on the counter as I prepped Sunday brunch. Then, not wanting the faulty brat package to leak as it defrosted, I sealed it in a zip-top bag and popped them into the fridge. Or so I thought.
Monday evening, I turned on the grill, prepped fresh green beans for steaming (thank you, farmers market!) and, at Hubs' request, began frying a pan of onions and sliced potatoes. I moved to the fridge to retrieve the brats, and they weren't there. Admittedly, my fridge is a mess right now. I have bags and containers and bowls of various fresh vegetables ('tis the season) overflowing every shelf and drawer. I started pulling that mess out item by item. No brats. Where could they be? My searching became more frantic.
Then, it dawned on me. I opened the freezer, and there, nestled between a baguette and the ice cream, was the package of brats. In my Sunday morning hustle, I had repackaged the frozen brats and popped them back into the freezer instead of the fridge. As it turns out, brats will not defrost in the subzero environment of a freezer. Who knew?
So here is my professional advice for defrosting brats: put them in the refrigerator. If you do follow this ingenious tip, maybe you want a side dish to serve with them. My green beans and fried potatoes would have been excellent, but in these last days of summer, a pasta salad loaded with vegetables may be even better. I usually serve this Simple Pasta Salad with roasted chicken, but it literally goes with anything and even stands alone if your brats somehow end up back in the freezer.
---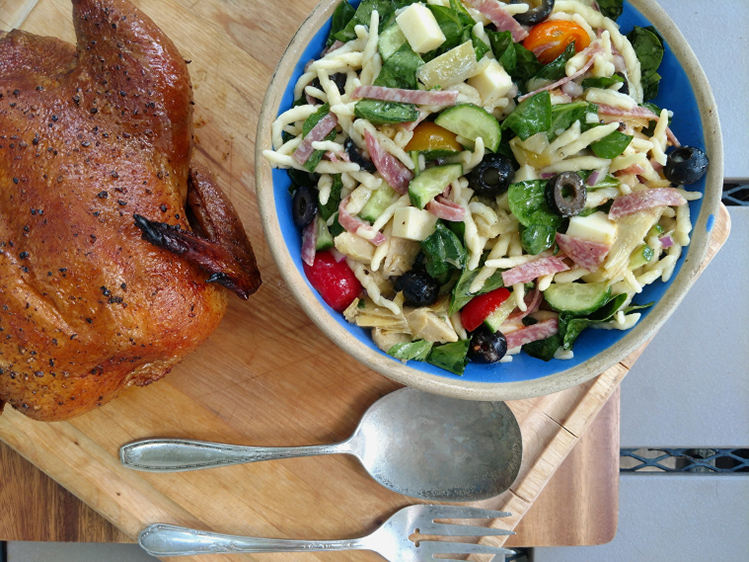 When supper plans go awry, pasta salad saves the day.
Simple Pasta Salad
1/2 cup olive oil
1/2 cup fresh lemon juice
1 clove garlic, minced
1 teaspoon honey
salt and pepper, to taste
1 pound pasta
1 small cucumber, sliced
1 pint cherry tomatoes, halved
3 cups fresh spinach, chopped
1/4 cup red onion, sliced into rings
1/2 cup black olives, sliced
1/4 cup artichoke hearts, chopped
1 cup mozzarella cheese, cubed
8 ounces hard salami, sliced into ribbons
2-4 tablespoons grated parmesan
Combine the olive oil, lemon juice, minced garlic, honey, salt and pepper in a bowl and whisk to create dressing. Alternatively, add all ingredients in a small mason jar and shake to combine. Set aside for flavors to meld.
Bring a large pot of salted water to a boil and cook pasta according to package directions. Rinse under cool water.
Meanwhile, prep all the remaining ingredients in a large bowl. Add drained and cooled pasta. Toss with dressing and parmesan. Refrigerate salad for at least 2 hours before serving.
Fran Hill has been blogging about food at On My Plate since October of 2006. She, her husband and their three dogs ranch near Colome.