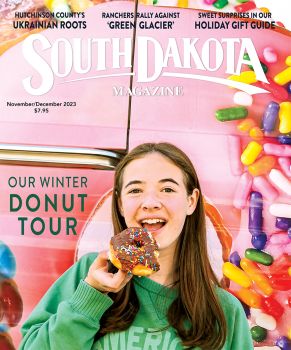 Subscriptions to South Dakota Magazine make great gifts!
Subscribe today — 1 year (6 issues) is just $29!

Leeks: Get to Know 'Em
Apr 14, 2016
By Fran Hill
I grew up in a meat and potatoes home. There were always vegetables on the table, but it was simple. Home-canned green beans from Mom's garden and frozen corn or peas were scooped onto my plate beside the portions of beef or pork. Carrots were reserved for throwing into the oven with pot roast. Broccoli and cauliflower appeared raw in fresh salads or overcooked in a vegetable medley. That was adventurous.
As I discovered my interest in cooking, I decided to rectify my lack of exposure and explore the wide world of produce. I made it a practice to add at least one "unknown" vegetable to my cart with each visit to the grocery store.
Leeks were one of my early ventures into the unknown. As part of the family of onions and garlic, I knew their mild flavor would be a hit for us. Once I mastered the relatively easy task of rinsing to remove any grit, this delectable taste of spring was added to potatoes, simmered in cream sauces over chicken, and simply sautéed in butter.
Spring Onion Soup is another delicious way to add leeks to the menu. This brothy soup is light and perfectly highlights the flavor combination of sweet onions and leeks. Tortellini and peas make it more filling, and don't skimp on the divine Gruyere cheese toasts. Green onions and basil add a final delightful freshness. Leeks are no longer an unknown vegetable with Spring Onion Soup.
---
Spring Onion Soup
(adapted from Better Homes and Gardens)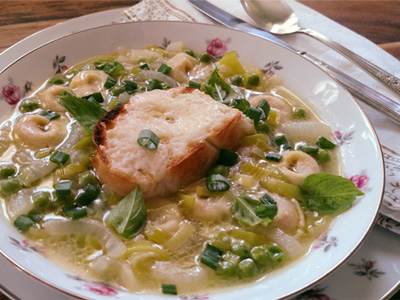 Spice up your vegetable life by adding leeks to Spring Onion Soup.
1/4 cup unsalted butter
1 tablespoon olive oil
1 large sweet yellow onion, sliced
1 large leek, white part thinly sliced
4 cups chicken broth
2 cups water
1 cup dried cheese tortellini
kosher salt
2 cups frozen peas
1 bunch green onions, sliced
1/2 cup torn basil leaves
6 slices of baguette (or sour dough bread)
1 cup Gruyere cheese, shredded
In a large pot, melt the butter and olive oil together over medium heat. Add the sweet onion and cook, covered, until translucent. Stir occasionally. Add leeks and cook until tender. Add the broth and water and bring to a boil. Add the tortellini and reduce heat to a simmer for about 10-15 minutes, until tortellini are cooked through. Season with salt to taste, and stir in the peas; simmer just until heated through.
Meanwhile, preheat the broiler. Top 6 slices of baguette with equal portions of shredded Gruyere cheese. Arrange on a baking sheet and broil 1-2 minutes until cheese is melted.
To serve, ladle soup into bowls, nestle a Gruyere cheese toast into the soup, and top with green onions and torn basil. (Serves 6)
Fran Hill has been blogging about food at On My Plate since October of 2006. She, her husband and their three dogs ranch near Colome.