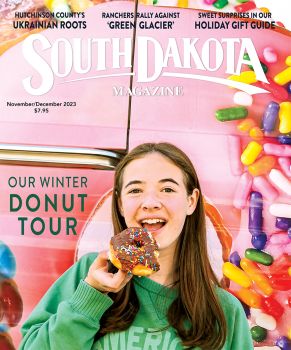 Subscriptions to South Dakota Magazine make great gifts!
Subscribe today — 1 year (6 issues) is just $29!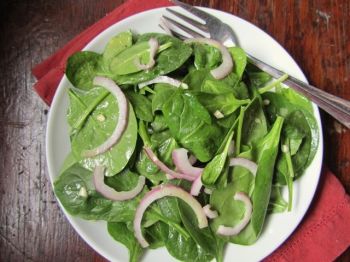 Stressing the Spinach
Jul 10, 2014
This spring, as soon as Hubs helped me ready a new raised planting bed, I seeded rows of radishes, carrots, spinach and lettuce. Our newest gardening area had been filled with rich, composted soil from pens at the farm where the lambs are fed, and I was so anxious to see the results of the fertile soil.
Unfortunately, my spinach had other plans. It sprouted, formed a few skinny leaves and immediately bolted and flowered. There was nothing to harvest. I haven't done a lot of research, but a horticulture source told me that spinach prefers a little stress and my soil might have been too rich for it to flourish.
I guess I might have something in common with spinach. We both work best under a little pressure. Deadlines and events mean that I will make lists, plan and prep, but chances are that things won't really happen until the last minute. I need a little stress to flourish. Me + spinach = soul mates. Who knew?
I have since planted another row of spinach seeds in an older planting bed with less fertile soil. They have sprouted and are just beginning to leaf. I know that as temperatures rise in July, it isn't the optimum time for growing cool weather favoring spinach, but hopefully I can get at least one harvest from this new seeding.
I hope to take a bunch of my spinach soul mate and toss it with another love — garlic. It's a match made in heaven. Whisking tangy vinegar and mustard into a simple vinaigrette to complement the pungent garlic and earthy spinach finishes an uncomplicated salad that is manageable even in stressful times.
---
Spinach and Garlic Vinaigrette
(adapted from Cooking Light)
1 1/2 tablespoons olive oil
2 tablespoons white wine vinegar
1/2 teaspoon Dijon mustard
freshly ground black pepper
kosher salt
2 garlic cloves, minced (I actually prefer to grate with a micro plane.)
6 cups baby spinach
1/4 cup sliced red onion
Whisk together olive oil, vinegar, mustard and garlic. Season to taste with salt and pepper.
Toss spinach and red onion with vinaigrette. (Serves 4)
Fran Hill has been blogging about food at On My Plate since October of 2006. She, her husband and their two dogs ranch near Colome.