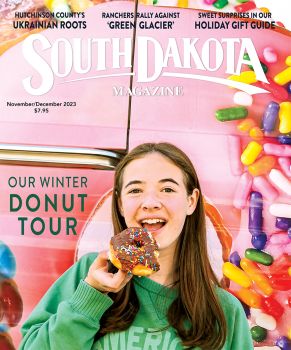 Subscriptions to South Dakota Magazine make great gifts!
Subscribe today — 1 year (6 issues) is just $29!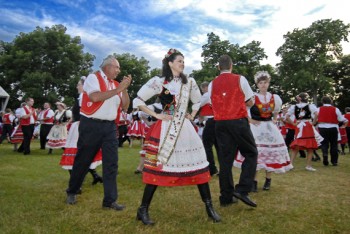 Polka Time in Tabor
Editor's Note: This story is revised from the May/June 2009 issue of South Dakota Magazine. To order a copy or to subscribe, call 800-456-5117.
Leonard and Mildred Cimpl were Czech Days staples. The Tabor couple helped organize the summer bash for over 61 years. They only missed one. That was the year they married. "At our place we live Czech Days year round," Mildred said when we talked to her in 2009.
It takes careful planning to piece together a three-day festival that brings over 5,000 people to the town of 400. There are polka bands to schedule, dances to rehearse and kolaches to bake. Fortunately plenty of bakers are available to prepare the Czech pastry. An assembly line of women roll dough, bake it and add apple, cherry, prune, poppy seed or cottage cheese filling. "Between selling and eating," they go through about 2,100 dozen, Mildred said.
Polka music is everywhere, even in church. At the polka mass, traditional songs are re-written with religious lyrics and sung in English and Czech. And there's always an accordion dance band at Beseda Hall.
The most colorful part of Czech Days is the Beseda dancers, who perform the 19th-century Czech balloroom dance in traditional costumes. "In Czechoslovakia, every little village had their own costume," Mildred explained. "You could almost tell the village by the skirts, or the boleros." In Tabor, women wear a red skirt, white blouse and black bolero, and men were black pants, a white shirt and red vest.
Tabor has a museum, a cafe and historic St. Wenceslaus Catholic Church. And even if you miss Czech Days you can still order fresh kolaches; local women take orders to make at home.
---
In 2013, Czech Days will be held June 20-22. For a look at past festivities in Tabor, visit our Czech Days photo gallery.