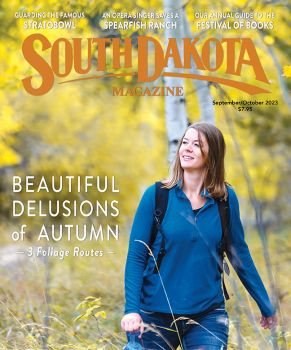 Subscriptions to South Dakota Magazine make great gifts!
Subscribe today — 1 year (6 issues) is just $29!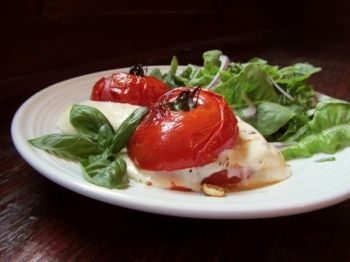 Fran's Garden Burgers
Aug 8, 2013
By Fran Hill

The mere mention of "veggie burger" causes me to involuntarily wrinkle my nose. There is something about a processed patty pretending to be something it isn't that doesn't appeal to me at all. I won't say that I will never eat them, but it isn't very likely.
I like meat. Once upon a time, I thought I didn't. I was wrong. Perhaps my taste buds hadn't yet fully developed. Maybe my limited food experiences hindered my sense of adventure. Definitely I didn't know a lot about proper preparation for the hunks of protein that I usually cooked to death back in those days. Whatever the reason for my past finickiness, currently I dream about perfect coals for grilling all-beef burgers, slather fruity salsas on salmon burgers and spicy ketchups on turkey burgers, and never, ever, EVER refuse a fried egg on top of any of them.
That isn't to say that I turn my back on other options. I may not buy packages of questionable creations from the freezer case, but I have crafted flavorful black bean burgers filled with minced peppers, onions and garlic and topped with stinky cheeses that were beyond wonderful. Shredded summer squashes and carrots have been held together with a beaten egg and fried to crispy perfection. Eggplant can be either grilled or breaded and baked or fried for a thick veggie layer with lettuce, tomato and a grooved-up mayo on a toasted bun. I do like MY versions of "garden burgers."
One of my favorite discoveries for garden burgers isn't sandwiched between layers of bread at all. Simple and delicious tomato and mozzarella burgers must be eaten with a knife and fork, and it would be a sin not to swirl a forkful of cheese around to gather all the beautiful juices on the plate.
Fresh garden tomatoes are sliced in half, drizzled with olive oil, seasoned with salt and pepper, and topped with slivers of garlic before being popped into the oven to roast. In the time it takes me to walk to the garden, cut some lettuces and pull an onion for a simple salad on the side, the garlic sweetens and perfumes the ripe fruits as they warm and soften in the intense heat. A slice of fresh mozzarella is wedged between the thick chunks of tomato and melts into gooey lusciousness. That's it. Perfection in just a few ingredients. A veggie burger that doesn't make me wrinkle my nose at all.
---
Tomato and Mozzarella Burgers
Adapted from Real Simple Magazine
6 large tomatoes
Olive oil
Kosher salt
Freshly ground black pepper
1-2 garlic cloves, thinly sliced
8 ounces fresh mozzarella cheese
Fresh basil

Heat oven to 450 degrees. Slice a thin piece from the rounded bottom of each tomato, so they sit upright. Cut each tomato in half horizontally. Arrange the tomato halves cut side up on a shallow roasting pan or rimmed baking sheet lined with foil. Drizzle with oil; season with salt and pepper. Scatter the garlic over the tomatoes. Roast until they're softened and warmed through, approximately 15 minutes. Meanwhile, cut the mozzarella into 6- 1/2 inch rounds. Using a spatula, sandwich each cheese slice between 2 hot tomato halves. The heat of tomatoes will melt the cheese slightly. Drizzle with the juices collected in the roasting pan and garnish with basil. Serves 6.
Fran Hill has been blogging about food at On My Plate since October of 2006. She, her husband and their two dogs ranch near Colome.