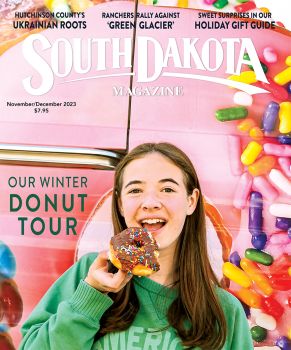 Subscriptions to South Dakota Magazine make great gifts!
Subscribe today — 1 year (6 issues) is just $29!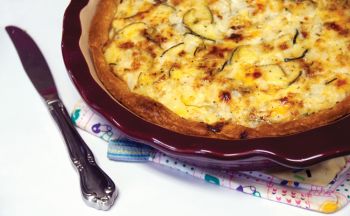 Zucchini: The Funny Fruit
Sep 21, 2016
By Katie Hunhoff
The garden behind our South Dakota Magazine office becomes an overgrown jungle by the time September arrives. We are still picking tomatoes and zucchini every day. We used to make the usual zucchini jokes as the squash multiplied and began to pile up on our conference room table. But a few years ago we had a zucchini cook-off in the office and the recipes were a hit, especially the desserts. Now our backyard zucchini gets more respect.
Zucchini's reputation seems to have spiked not just in our office but everywhere. Part of the resurgence is surely linked to zoodles — zucchini as noodles — a healthy replacement for high-carb pasta. But decades before zoodles, South Dakotans were making casseroles, soups, desserts, baked goods, jellies, jams and countless side dishes out of the abundant garden fruit. (It's not a vegetable because it has seeds.)
The plant does well anywhere — so well that gardeners spin variations of the same joke: we don't lock our car doors here except in August and September when the neighbors are likely to fill the back seat with zucchini. Farm humorists joke that zucchini — like Canada thistle and cedar trees — will probably grow and prosper so long as it doesn't make the Chicago Board of Trade. But try planting a few acres with the notion of making a dollar and the vines will shrivel and die.
Zucchini, a member of the squash family, was first used as food in the Americas. Archaeologists found evidence of the dark green fruit in Mexico as early as 7000 B.C. Eventually it made its way to Italy (zucchini is an Italian word meaning little squash) and France, where it was called courgette. It probably made its way to the United States via Italian immigrants.
Although zucchini can grow to giant proportions overnight, it's best to pick (or buy) when the fruit is immature. Full-grown zucchini (which can be over 3 feet long) is called marrow, and is tougher and less delicate in flavor.
If you're a gardener or a South Dakotan who doesn't lock your doors in late summer, then, like me, you're probably looking for creative ways to dispose of zucchini. Here's one recipe I loved and still use from our office cook-off.
---
Savory Zucchini Pie
2 tablespoons butter
4 cups thinly sliced zucchini
1 cup finely chopped onions
2 tablespoons parsley flakes
1/2 teaspoon salt
1/2 teaspoon pepper
1/4 teaspoon garlic powder
1/4 teaspoon dried oregano
2 eggs
2 cups mozzarella or Muenster cheese
1 can crescent dinner rolls
2 teaspoons yellow mustard
Heat oven to 375 degrees. In 12-inch skillet, melt butter over medium-high heat. Add zucchini and onions; cook 6 to 8 minutes, stirring occasionally, until tender. Stir in parsley flakes, salt, pepper, garlic powder, basil and oregano.
In large bowl, mix eggs and cheese. Add cooked vegetable mixture; stir gently to mix.
Separate dough into 8 triangles. Place in ungreased 10-inch glass pie plate, 12x8-inch (2-quart) glass baking dish or 11-inch quiche pan; press over bottom and up sides to form crust. Firmly press perforations to seal. Spread crust with mustard. Pour egg mixture evenly into crust-lined pie plate.
Bake 18 to 22 minutes or until fork inserted near center comes out clean. Let stand 10 minutes before serving. (Recipe submitted by Bernie Hunhoff, editor-at-large.)
South Dakota Magazine is seeking more zucchini recipes and cooking tips from readers across the country. Please send to editor@southdakotamagazine.com or mail to South Dakota Magazine, Katie Hunhoff, 410 E. Third St., Yankton, SD 57078.