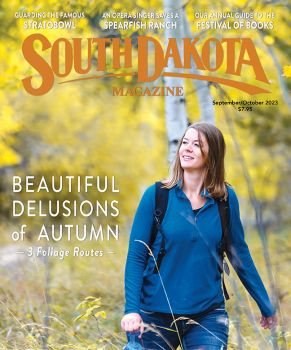 Subscriptions to South Dakota Magazine make great gifts!
Subscribe today — 1 year (6 issues) is just $29!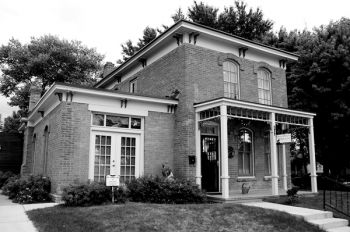 Our Best Stories, Revisited
Apr 7, 2014
I began my career at South Dakota Magazine 10 years ago — just in time to help the staff work on a book titled South Dakota's Best Stories. It was a celebration of the magazine's 20th anniversary — a collection of the most interesting people, places and tales from the first 120 issues of the magazine.
It was a great indoctrination to pore over fascinating stories about my home state. Some were amusing, some heartbreaking, some bizarre and some heartwarming. I felt a connection to each, and identified with a variety of South Dakotans — from a lonely bachelor that lived by the Bad River to the wily wolf Three Toes.
Ten years later we are preparing for the magazine's 30th anniversary and simultaneously working on a new Best Stories, having almost sold out of the first one. The new book will now encompass the magazine's whole 30 years. I was so enamored with the first collection of stories that when I began to work at the magazine I thought perhaps all the best stories were already taken. How could we top our interviews with legendary South Dakotans like pilot Clyde Ice or our state's first woman congressman Gladys Pyle?
But I'm proud to say that the last 10 years have proven me wrong: we are still finding amazing stories about the colorful characters living in South Dakota.
One of the magazine's most talked about stories in the last decade was about an Indian teen named Ray Deloria, an amazing basketball player, who propelled the Gann Valley high school team to the 1954 state tournament in Huron. The story's rawness, giving glimpses of Deloria's triumphs and defeats, both on the basketball court and in life, resounded with readers.
Another of the decade's most popular was an essay by a Minneapolis man, Douglas Stewart, who tells of a trip to Gettysburg to attend his grandma's funeral. At the story's beginning Stewart was annoyed that he had to drive the long distance, writing, "the long journey would likely be a disappointing price to pay for no actual benefit." But the funeral undertaker, a man named Ken Ripley from nearby Mobridge, transformed the trip into a life-changing event. On the journey home Stewart reflected: "In one brief evening, he managed to memorialize my grandmother, honor my grandfather, revive lost memories of my youth, make a sanctuary full of sad people laugh out loud, then cry again together. Not a bad day's work."
Managing Editor John Andrews wrote a story in 2011 about two Hutterite brothers who were persecuted by their fellow soldiers and officers during WWI. After being drafted they vowed not to fight, citing their pacifist beliefs. They were sent to two federal prisons and eventually died from the torture they endured. Very few of our 45,000 subscribers had heard of the brothers' plight until they read John's story, but they are heroes in the Hutterite communities of South Dakota.
Are we going to run out of stories? That's the most common question we hear from readers. The last 10 years have taught me that great stories are waiting to be told in every corner of our state, and new stories are being lived every year.